Germany Pale Mother
Deutschland, bleiche Mutter
Set during the Third Reich and its aftermath, this lyrical, harrowing tale of love and war is a neglected classic of New German cinema.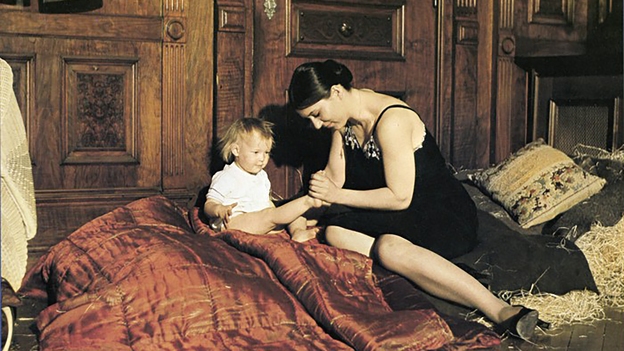 Open image gallery
Director Helma Sanders-Brahms
Producers Helma Sanders Brahms, Ursula Ludwig, Volker Canaris
Screenwriter Helma Sanders-Brahms
With Eva Mattes, Ernst Jacobi, Elisabeth Stepanek
Germany

1980

151 mins
Production company Literarisches Colloquium Berlin
Based on her mother's experiences during and after the Third Reich, Helma Sanders-Brahms' lyrical, harrowing tale of love and war explores the devastating impact of politics on family life. Hans and Lene scarcely have time to meet and marry before Hans is sent away to fight, leaving Lene to give birth during an air raid and struggle through the war with a baby daughter. With a brilliant, fearless performance from Eva Mattes (Lene), the film casts a powerful emotional spell, intensified by a delicate, plaintive piano score, the bold interpolation of wartime archive footage and the haunting re-telling of a sinister Grimm's fairy tale. German critics savaged the film at its premiere, baulking at its 'subjective' female take on recent history. Cut by 30 minutes for its cinema release, only now has it been restored to its impressive original form by the Deutsche Kinemathek and Bundesarchiv.
Margaret Deriaz
Image credit
Colour stills: Deutsche Kinemathek
Black and white stills: Sanders Film GmbH