Closing Night Gala
Fury
David Ayer's brilliant action drama tells the story of US soldiers and the demons they face down as they drive their tank through occupied Europe during WWII.
Sunday 19 October, 7:00 PM
Odeon Leicester Square
Tickets for this screening were sold via a ballot and have now sold out. The ballot is now closed but any returned tickets will available to buy from 2 October.
Closing Night around the UK
Audiences around the UK will have the exclusive chance to see Closing Night red carpet footage beamed live by satellite and followed by a screening of Fury.

Tickets are now available at Show Film First. There are only a limited number available at each venue, but more may be available by registering at Show Film First.
Vue Aberdeen | Vue Basingstoke | Vue Birmingham | Vue Bristol Cribbs | Vue Cambridge | Vue Cardiff | Vue Cheshire Oaks | Vue Croydon Grants | Vue Dublin | Vue Edinburgh Omni | Vue Glasgow Fort | Vue Leeds Light | Vue Leicester | Vue Manchester Lowry | Vue Norwich | Vue Oxford | Vue Plymouth | Vue Portsmouth | Vue Sheffield | Vue York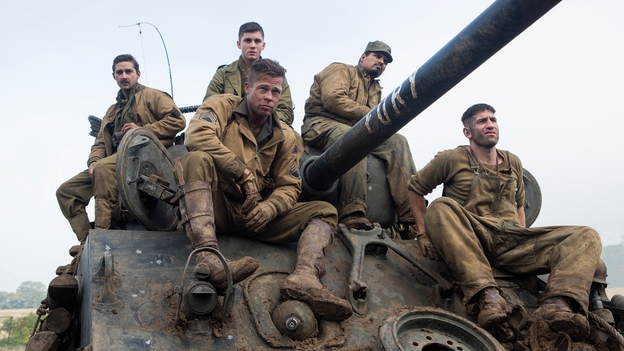 Director David Ayer
Producers Bill Block, David Ayer, Ethan Smith, John Lesher
Screenwriter David Ayer
With Brad Pitt, Shia LaBeouf, Logan Lerman, Michael Peña, Jon Bernthal
USA

2014

120 mins
UK distribution Sony Pictures Releasing International (UK)
Fury is a resounding cinematic achievement. Rarely is a film so successful at balancing the human drama of war with such ferociously precise action sequences. Set during the last months of WWII, when the Allies are making their final push into Germany, a battle-hardened sergeant (Brad Pitt) commands a Sherman tank on a deadly mission behind enemy lines. His motley crew (Shia LaBeouf, Michael Peña and John Bernthal) is still reeling from the bloody death of a comrade in a recent battle. The tension mounts when Norman (Logan Lerman), a fumbling new recruit with no training, joins them as the replacement driver. When his early mistakes cost lives, Norman is pushed beyond the limits of his experience and forced to confront the reality of combat. Stunningly choreographed battle sequences, set in the fields and villages of a war-ravaged Germany, are rendered terrifyingly real, as witnessed through the eyes of the innocent rookie. Brad Pitt, who is also an executive producer on the film, gives an extraordinary performance as the uncompromising leader who, despite his tough exterior, is attuned to Norman's struggle and has his own inner demons to contend with. Writer/director David Ayer has developed a reputation for gritty action films (End of Watch, LFF Official Competition 2012) and is working here on an expanded scale that achieves both the technical virtuosity of Steven Spielberg's Saving Private Ryan and the confined, dramatic intensity of Samuel Moaz's Lebanon. Ayer powerfully juxtaposes the inescapable space of the tank itself – reeking of testosterone, sweat and fear – with the vast, absurd theatre of this grand-scale war in all its messy death throes. Filmed largely on location in Oxfordshire, and utilising collector-owned tanks that saw action during the war, Fury features cinematography by Roman Vasyanov (End of Watch), editing by Dody Dorn (Memento, Insomnia) and a sonorous score by British composer Steven Price.
Clare Stewart
The BFI Member ticket ballot for the Closing Night Gala on 19 October is closed and all those who were successful will have heard by 19 September.