Free Fall
Szabadesés
Gyorgy Pálfi's absurdist and provocative take on life in contemporary Budapest features seven rather unusual episodes.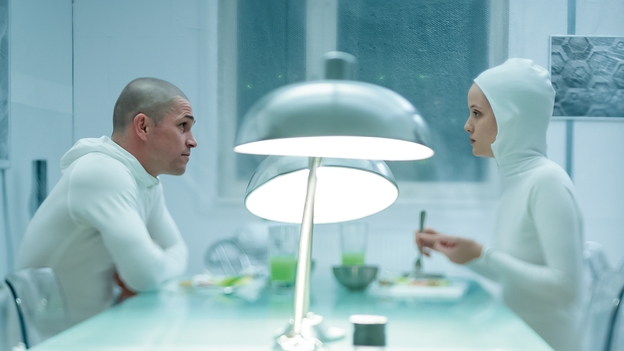 Open image gallery
Director György Pálfi
Producer Ferenc Pusztai
Screenwriters Zsófi Ruttkay, György Pálfi
With Piroska Molnár, Marina Gera, Nóra Lili Hörich
Hungary-South Korea-France

2014

89 mins
Sales KMH Film
This new film from Hungary's most innovative and controversial director György Pálfi (Hukkle, Taxidermia) presents an imaginative and provocative account of some unusual aspects of modern society. An old woman throws herself from the roof of an apartment building in modern-day Budapest, only to toil back up the stairs and repeat the act. In the process, she passes by a further seven life stories taken from contemporary life – the woman who visits a gynaecologist to have her baby returned to the womb, a couple who have sex while hygienically wrapped, the flat where the head of a bull is only perceived by a young boy. Reminiscent of Luis Buñuel, Pálfi emphasises humour in the grotesque, aided in no small part by effective sound design and Amon Tobin's atmospheric electronic score. As one of the characters observes, 'If you feel strong enough, open your eyes'.
Peter Hames