American Express Gala
Foxcatcher
A riveting, tense and unsettling exploration of the power of money and obsession from the acclaimed director of Capote and Moneyball.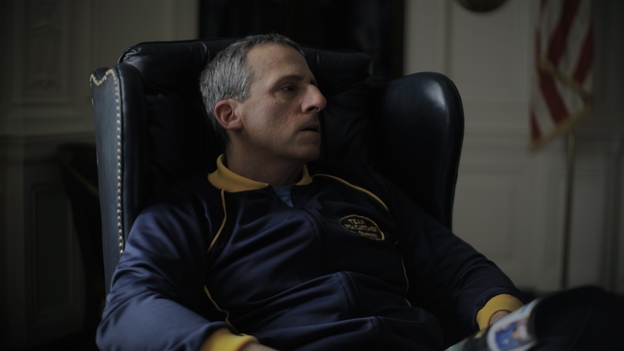 Open image gallery
Director Bennett Miller
Producers Megan Ellison, Bennett Miller, Jon Kilik, Anthony Bregman
Screenwriter E Max Frye, Dan Futterman
With Steve Carell, Channing Tatum, Mark Ruffalo, Vanessa Redgrave, Sienna Miller, Anthony Michael Hall
USA

2014

135 mins
UK distribution Entertainment One UK
Featuring enthralling performances from its unexpected cast and directed with unswerving rigour, Bennett Miller's (Capote, Moneyball) nerve-jangling third feature not only confirms him as one of America's most significant contemporary filmmakers, it powerfully demonstrates the clarity of his vision: get to the truth by creating fiction out of fact. Copious research into the real-life story of the ill-fated relationship between wrestling world champions Dave and Mark Shultz and their multi-millionaire benefactor John E du Pont is refined into a perfectly-formed, slow-burn psychological thriller. Despite his own sporting success, Mark (Channing Tatum) struggles to achieve independence from his older brother Dave (Mark Ruffalo), who is a confident athlete and coach, effortlessly social and has a loving relationship with his wife (Sienna Miller) and their two children. When the wealthy and mysterious Mr du Pont (a mesmerising and unrecognisable Steve Carell) impulsively invites Mark to take up residence at his sprawling family property – complete with high-end training facility – the introverted athlete proves vulnerable to this peculiar new influence. Du Pont's motivations for 'coaching' the American wrestling team to Olympic victory seem dubious and his behaviour becomes increasingly erratic, however Mark remains oblivious, intoxicated by a new sense of freedom and the trappings his circumstances afford. The situation rapidly deteriorates, taking an irrevocable turn when du Pont switches his focus from the susceptible Mark to his wary older brother, Dave. Making incisive dramatic use of wrestling itself and the physical pull between intimacy and aggression, Foxcatcher parallels the action in the ring with the menacing, inexorable thrust of this profoundly haunting story. Wintry cinematography from Greig Fraser (Zero Dark Thirty, Bright Star) and a sparse, portentous score from Rob Simonsen augment the cumulative sense of foreboding in this intensely brilliant film.
Clare Stewart