Festival guests
Filmmakers are the lifeblood of the Festival and we are delighted to welcome our filmmaker guests to attend screenings for introductions and/or Q&A sessions with the audience.
Below is a list of people we are expecting to welcome to talk about their film. Filmmaker schedules are subject to change, and not all our guests are able to attend all their screenings. Whichever screening you attend we hope you enjoy the LFF experience.
• Headline Galas
• Strand Galas
• Special Presentations
• Official competition
• First Feature competition
• Documentary competition
• Love
• Debate
• Laugh
• Dare
• Thrill
• Cult
• Journey
• Create
• Family
• Experimenta
Headline Galas
Battle of the Sexes
Emma Stone and Steve Carell star in this playful true story of the 1970s gender wars played out on the tennis court, while the world watches.
Jonathan Dayton, Director; Valerie Faris, Director; Andrea Riseborough, Cast; Elisabeth Shue, Cast; Emma Stone, Cast; Billie Jean King, Special Guest
Breathe
This year's Opening Night Gala is a moving true story of courage under profound difficulties, by first-time director and acclaimed British actor Andy Serkis.
Andy Serkis, Director; Claire Foy, Cast; Andrew Garfield, Cast
Call Me by Your Name
A rapturous study in passion and desire from the director of I Am Love and A Bigger Splash.
Luca Guadagnino, Director; Timothée Chalamet, Cast
Journey's End
RC Sheriff's acclaimed First World War drama reaches the screen in this all-star adaptation, directed by Saul Dibb (Bullet Boy).
Saul Dibb, Director; Asa Butterfield, Cast; Sam Claflin, Cast; Stephen Graham, Cast; Toby Jones, Cast
The Killing of a Sacred Deer
For those who loved the biting satire of Yorgos Lanthimos' The Lobster, he returns with another electrifying critique of bourgeois values.
Yorgos Lanthimos, Director; Colin Farrell, Cast; Barry Keoghan, Cast; Nicole Kidman, Cast
Last Flag Flying
Richard Linklater's ruminative comedy finds three men accepting that life isn't quite what it used to be.
Richard Linklater, Director; Bryan Cranston, Cast
Mudbound
Director Dee Rees (Pariah) delivers a searing racial drama about two families – one white, one black – set in the Deep South in the 1940s.
Dee Rees, Director; Mary J. Blige, Cast; Garrett Hedlund, Cast; Jason Mitchell, Cast; Carey Mulligan, Cast
The Shape of Water
Master of things that go bump in the night, Guillermo Del Toro spins the compelling tale of friendship between a mute woman and an amphibious creature.
Guillermo Del Toro, Director
Three Billboards Outside Ebbing, Missouri
Martin McDonagh's third feature is a scabrously funny drama about the battle between a grieving mother and the local head of law enforcement.
Martin McDonagh, Director; Frances McDormand, Cast; Sam Rockwell, Cast
You Were Never Really Here
Lynne Ramsay journeys with Joaquin Phoenix into the mind of an ex-soldier gun-for-hire whose own demons are as brutal as the actions of his adversaries.
Lynne Ramsay, Director; Joaquin Phoenix, Cast
Strand Galas
Amant Double
François Ozon has done the maths. Double the danger = double the fun.
The Big Bad Fox and Other Tales
This hilarious trio of farmyard tales features some of the wisest cracking animals that you ever could hope to meet.
Blade of the Immortal
Cult favourite Takashi Miike slices and slashes his way through this stunning swordplay adventure, the 100th title in the director's extraordinary body of work.
The Florida Project
Sean Baker follows his incredible Tangerine with another visionary take on the wild ups and dangerous downs of life in America's underbelly.
Sean Baker, Director; Valeria Cotto, Cast; Brooklynn Kimberly Prince, Cast; Bria Vinaite, Cast
Foxtrot
Expanding from the claustrophobic confines of his award-winning Lebanon, Samuel Maoz presents a provocative portrait of the mind-set of generations subject to Israeli military conscription.
The Meyerowitz Stories (New and Selected)
Master of the urban comedy drama, Noah Baumbach presents a study of a dysfunctional family par excellence, ruled over by Dustin Hoffman's shambolic patriarch.
Noah Baumbach, Director; Emma Thompson, Cast
On Chesil Beach
Be warned – this film will break your heart.
Billy Howle, Cast; Saoirse Ronan, Cast
Redoubtable
From the Oscar-winning director of The Artist, a brilliantly realised portrait of France's maestro director Jean-Luc Godard spiralling into philosophical and romantic crisis.
Michel Hazanavicius, Director; Bérénice Bejo, Cast; Louis Garrel, Cast; Stacy Martin, Cast
Thelma
A teenage girl taps into some long-dormant powers, in this chiller from Joachim Trier (Oslo, August 31st).
Wonderstruck
Part children's coming-of-age tale, part homage to silent cinema, entirely wonderful.
Todd Haynes, Director; Oakes Fegley, Cast; Jaden Michael, Cast
Special Presentations
Dark River
Clio Barnard (The Arbor, The Selfish Giant) adapts Rose Tremain's Trespass, relocating the action to Yorkshire, where two siblings come into conflict over a family inheritance.
A Fantastic Woman
A transwoman's quest for a little respect gives us one of 2017's standout performances in this invigorating Chilean drama from Sebastian Lelio (Gloria).
The Final Year
Greg Barker's excellent observational documentary examines, with great intimacy, the final year in Obama's foreign policy administration as an election looms.
Looking for Oum Kulthum
An exiled Iranian woman begins making a film about 'the voice of Egypt', Oum Kulthum, who was loved by the people and manipulated by politicians.
MINDHUNTER
David Fincher returns to television with a Zodiac-style police procedural, based on the men who first coined the phrase 'serial killer'.
David Fincher, Director; Jonathan Groff, Cast; Holt McCallanay, Cast
The Party
Sally Potter's satire, written just prior to the 2015 British General Election, is a monochrome deconstruction of class and political values, as a small group of friends meet for dinner.
Sally Potter, Director; Bruno Ganz, Cast; Cillian Murphy, Cast; Timothy Spall, Cast; Kristin Scott Thomas, Cast 
Zama
A political western-cum-existentialist epic from the one of Latin America's boldest filmmakers, Zama offers an incisive and visually arresting examination of the abuses of colonialism.
Lucrecia Martel, Director
Official Competition
120 BPM (Beats Per Minute)
A riveting and invigorating account of AIDS activist organisation ACT UP-Paris.
Angels Wear White
One night in a hotel room has catastrophic consequences in this piercing drama that takes a young female perspective on corruption and sexual exploitation.
Beyond the Clouds
Acclaimed Iranian auteur Majid Majidi relocates to Mumbai to tell a fast-paced coming-of-age story about a teenager who sets out to save his sister.
The Breadwinner
This exceptional animated film about a girl's struggles in Afghanistan is based on the bestselling novel by Deborah Ellis.
Nora Twomey, Director; Saara Chaudry, Cast
Good Manners
Rule-breaking filmmaking at its most compelling and imaginative.
Marco Dutra, Director; Juliana Rojas, Director
The Guardians
A superbly involving French rural drama from Xavier Beauvois, with Nathalie Baye magnificent as a matriarch struggling to run the land when war breaks out.
Xavier Beauvois, Director; Laura Smet, Cast
Lean on Pete
Andrew Haigh's ravishing and mournful fourth feature sees a boy and a horse embark on a Huckleberry Finn-esque journey across America in search of home.
Andrew Haigh, Director; Charlie Plummer, Cast
Loveless
Andrey Zvyagintsev (The Return, Leviathan) takes a caustic look at contemporary Russian values as a couple going through a divorce deal with their son's disappearance.
Andrey Zvyagintsev, Director
The Lovers
Tracy Letts and Debra Winger play a married couple poised to break up in Azazel Jacobs crackingly funny and heart-wrenching look at long term love.
Sweet Country
Australian director Warwick Thornton (Samson and Delilah) brings a vital Indigenous perspective and great cinematic vision to this effective, revisionist epic.
Warwick Thornton, Director
Thoroughbreds
Taut, tense and deliciously nasty – my little pony this ain't.
Wajib
An estranged father-son relationship in the vibrant city of Nazareth makes for an immensely entertaining drama by Palestinian director Annemarie Jacir.
Annemarie Jacir, Director
First Feature Competition
Apostasy
Written and directed by a former Jehovah's Witness, this gripping debut depicts a family struggling with a cruel choice: devotion to one another or to their faith.
Daniel Kokotajlo, Director
Beast
The hunt for a Jersey serial killer sparks a dangerous awakening in a young woman in this astonishing psycho-sexual thriller, which sets all the senses aflame.
The Cakemaker
A gay German baker and an Israeli widow find comfort in their shared grief, in this tale of loneliness, complex desire, and lots of cakes.
Ofir Raul Graizer, Director
Cargo
Tensions erupt when three sons are forced to take over a failing family fisheries business in this dark and compelling North Sea drama.
I Am Not a Witch
Welsh-raised, Zambian born Rungano Nyoni delivers a dazzlingly debut with this dark satirical fairy tale about a little girl accused of being a witch.
Jeune femme
Paula is a one-woman riot of tangled emotion and self-destructive tendencies. Paris is a city for lovers. The cat of divorce is in a cardboard box.
Laetitia Dosch, Cast; Léonor Sérraille, Director
Most Beautiful Island
Searing social realism with a bold genre twist.
Summer 1993
Bereavement is seen through the eyes of a six-year-old girl in this assured, visually arresting debut from Catalan filmmaker Carla Simón.
Winter Brothers
Two quarry-worker brothers are swept into a vicious feud in this intensely performed and aesthetically distinctive debut, featuring House of Cards' Lars Mikkelsen.
Hlynur Palmason, Director, Writer, Producer
The Wound
A tough and complex tale of closeted sexuality in South Africa.
John Trengove, Director; Nakhane Touré, Cast
Documentary Competition
Before Summer Ends
Three young Iranian men hit the South of France in Maryam Goormaghtigh's intimate road movie, mixing documentary and improvised fiction to enjoyable, unpredictable effect.
Maryam Goormaghtigh, Director
Bobbi Jene
A fascinating documentary about contemporary dancer Bobbi Jene, whose ambition and physicality will in turn impress and mesmerise.
Elvira Lind, Director; Bobbi Jene Smith, Cast
Chauka, Please Tell Us the Time
An urgent and compelling account of life inside a detention centre for asylum seekers trying to reach Australia.
Arash Kamali Sarvestani, Director
The Dead Nation
Romanian life prior to the outbreak of the Second World War is the subject of Radu Jude's fascinationg archive documentary.
Distant Constellation
Residents of a retirement home in Istanbul share their memories in this arresting and artful documentary.
Shevaun Mizrahi, Director
Ex Libris – The New York Public Library
An immersive journey into the New York Public Library with great documentarian Frederick Wiseman.
Frederick Wiseman, Director
Gray House
A spell-binding exploration of the human experience, visually dazzling, combining documentary and video art.
Matthew Booth, Director/Photography; Austin Lynch, Director
Jane
An extraordinary and inspiring journey into the life of British primatologist Jane Goodall, with never-seen-before archive footage and a beautiful Phillip Glass score.
Makala
Documentary filmmaker Emmanuel Gras' gloriously cinematic portrait of a coal producer in rural Congo, which deservedly won the Grand Prize in Cannes' Critics Week.
The Prince of Nothingwood
A rousing behind-the-scenes account of the life of Salim Shaheen, Afghanistan's most prolific actor/director, and a one-man charisma-bomb.
Love
Ana, mon amour
Therapy, dreams and Nietzsche all play into this Romanian drama from the director of Child's Pose, where an intense relationship is put under the microscope.
The Boy Downstairs
The spirit of Norah Ephron is channelled in this smart and sassy Manhattan-set relationship drama.
British by the Grace of God screening in the short films programme Like a Heartbeat Drives You Mad
Middle-aged Irene doesn't have an easy life with her emotionally cold husband and reclusive son. Still she tries to make the best of her situation. Featuring Kate Dickie.
Close-Knit
A subtle and surprising Japanese family drama that places a transwoman's desire for motherhood at its core, with bittersweet results.
The Full Story screening in the short films programme Like a Heartbeat Drives You Mad
Memories of a father's affair, family break-up and sibling rivalry come back full force in this life-size animation from Oscar®-nominated and BAFTA-winning director, Daisy Jacobs.
Daisy Jacobs, Director; Christopher Wilder, Co-Director
Goddess screening in the short films programme Like a Heartbeat Drives You Mad
Rebellious young Tara flirts with her maid Devi. Faced with contemporary India's strict social norms, their attraction redefines who they both are.
Going West
Mum's gone. Work's gone tits up. Dad's got his dress on. It's time to hit the road.
Henrik Martin Dahlsbakken, Director
A Moment in the Reeds
The world's troubles recede, at least for a moment, in this intimate drama about an affair between a Finnish man and a Syrian immigrant.
Mikko Makela, Director; Janne Puustinen, Cast
Resurrecting Hassan
A family of blind buskers in Montreal attempt to come to terms with the loss of a loved one in this poignant award-winning documentary.
Carlo Guillermo Proto, Director
Saturday Church
New York queer and trans teens of colour find love, music and happiness in Damon Cardasis' heart-warming lo-fi musical.
Slap Happy screening in the short films programme Like a Heartbeat Drives You Mad
A couple constantly push the line between being comfortable with and abusive towards each other, resulting in an unexpected outcome.
Dusty Mancinelli, Director; Madeleine Sims-Fewer, Director
Three Peaks
Diverging ideas on love and fatherhood drive this captivating thriller, as a mountainside vacation designed for family bonding descends into a fight for survival.
Debate
The Climb
Leave your fear of heights at home before venturing to this exhilarating documentary, where six women take part in some vertiginous direct action.
Michael Woodward, Director
Homeland screening in the short films programme Distilled Identities
In a quiet, sheltered neighbourhood in Belgium, the locals offer their perspectives on issues that pose a threat to their way of living.
Island
A haunting, deeply moving documentary set among terminally ill cancer patients.
Steven Eastwood, Director
The Light of the Moon
Stephanie Beatriz stars in this powerful and involving portrait of a confident New Yorker trying to regain control of her life after a sexual assault.
Jessica M Thompson, Director
A Mother Brings Her Son to Be Shot
Five years in the making, this brave and level-headed documentary exposes paramilitary activity in present day Northern Ireland during a supposed time of peace.
The Venerable W.
Barbet Schroeder's documentary about a Buddhist monk espousing anti-Muslim hatred is a frighteningly resonant account of racist and nationalist rhetoric leading to horrendous violence.
Barbet Schroeder, Director
Laugh
Comeback Kid screening in the short films programme Gits and Shiggles
The dark humour of reincarnation portrayed as a man comes back, bug-eyed and bludgeoned, to avenge his masculinity.
In Between Takes screening in the short films programme Gits and Shiggles
Home videos are even funnier here as the cameraman – the director's own father – was unaware he was filming.
Alexei Dmitriev, Director
Ingrid Goes West
An emotionally unstable young woman moves to California to stalk her social media idol and insinuates herself into her picture-perfect life.
King of Peking
Genial comedy about a Chinese film projectionist who starts a bootleg DVD operation with his movie-obsessed son.
Masterpiece screening in the short films programme Gits and Shiggles
Perfectly comical #BlackBoyJoy as a group of young men try to interpret their friend's art so they can save face and show support.
Runyararo Mapfumo, Director
Mordechai screening in the short films programme Gits and Shiggles
Daniel, an ultra-orthodox Jew, hasn't seen his identical twin brother Mordechai in years. A funny and touching fable about family, faith and the roles we play.
The Nightmare on Deskteeth Street screening in the short films programme Gits and Shiggles
Harold Miller is having a seriously bad day when he wakes to find his Little Reds gone. He's on a mission to be reunited.
Dylan Holmes Williams, Director
Quality Time
A singular take on masculinity defines this strange and innovative comedy.
Smear screening in the short films programme Gits and Shiggles
The awkward reality of a first-time smear test made funny by one woman's crushing femininity.
Word of God
When your dad (also known as 'God') is weighing up whether to call his autobiography 'Mein Kampf' you know things have got pretty f***ed up.
Henrik Ruben Genz, Director
Dare
Beach Rats
Coney-Islander Frankie juggles his dangerous double life: showing off his heteronormative masculine prowess with friends by day, cruising for gay hook-ups at night.
The Door screening in the short films programme My Loneliness is Killing Me
Shutting the world out, if just for a few moments, is not a privilege all enjoy. Minu decides she deserves to get a few moments alone.
Anisa Mukerjea Ganguli, Director
-everyman screening in the short films programme My Loneliness is Killing Me
A man, drunk and desperate, searches for a connection. A field recording, dramatised.
John Angus Stewart, Director
Film Stars Don't Die in Liverpool
The true story of the love affair between Gloria Grahame and young, aspiring actor Peter Turner, produced by the Bond franchise's Barbara Broccoli.
Paul McGuigan, Director; Jamie Bell, Cast; Annette Bening, Cast;
Grain
Mankind faces extinction in this stunningly-realised widescreen dystopian fiction about ecological disaster.
Semih Kaplanoğlu, Director
Have Heart screening in the short films programme My Loneliness is Killing Me
A looping GIF has an existential crisis.
The Hungry
This UK-India co-production employs Shakespeare's Titus Andronicus as the source of its story about a ruthless businessman whose world is threatened by an evil act.
Bornila Chatterjee, Director
Laws of the Game screening in the short films programme My Loneliness is Killing Me
The epic story of a Surinamese female referee fighting for her place in the world of men's football.
Life Guidance
Happiness is an emotion shared by all in this world, but when one man questions his existence, the penalty can be deadly.
Little Crusader
In southern Italy, a knight searches for his son who has joined the Children's Crusade in this unusual, visually evocative take on the Middle Ages.
Václav Kadrnka, Director; Karel Roden, Cast
Not Required Back screening in the short films programme My Loneliness is Killing Me
A portrait of a recently redundant contractor in the declining Scottish oil industry.
Peter Marsden, Director; Jamie Robson, Cast
Salt & Sauce screening in the short films programme My Loneliness is Killing Me
A film about battered sausages and trying to figure out what the hell you're doing with your life.
Sicilian Ghost Story
True life Mafia Kidnap story, re-fashioned as bravura modern fairytale, from the makers of Salvo.
Fabio Grassadonia, Director; Antonio Piazza, Director
A Skin So Soft
Body-builders as you've never seen them before, in all their vulnerability and away from artificial glamour.
So Help Me God
A darkly funny and unsettling behind-the-scenes glimpse at the work of a rather unusual Belgian judge.
Yves Hinant, Director; Jean Libon, Director; Anne Gruwez, Cast
Tiger Girl
There's an anti-capitalist vigilante on the streets of Berlin and she's looking for a protégé in this witty, ultra-violent, female-focused fight-fest.
Thrill
1745 screening in the short films programme The Thrill of the Chase
In the year of the Jacobite rising, two slave sisters escape into the Scottish wilderness.
Bad Genius
Taking you straight back to the night before your GCSEs, this is an adrenaline-fueled, edge-of-the-desk exam-heist thriller like you've never seen before.
Nattawut Poonpiriya, Director
Darling
'Fame costs'. That old cliché is often so painfully true. Testament to this is prima ballerina Darling. How much is she willing to sacrifice for her art?
Birgitte Stærmose, Director; Danica Curcic, Cast; Astrid Grarup Elbo, Cast
Mountain
For mountain lovers and adrenaline junkies alike, this documentary is a cinematic feast.
Jennifer Peedom, Director
Oksijan screening in the short films programme The Thrill of the Chase
The true story of a seven-year-old Afghan boy who finds himself trapped in a refrigerated truck with 14 other refugees as they are smuggled into the UK. Featuring Ella Purnell.
A Prayer Before Dawn
The true story of Billy Moore, a British drug-dealer sent to a violent Thai prison where he learns kick-boxing as a means to survive.
Jean-Stéphane Sauvaire, Director
Small Town Crime
An alcoholic ex-cop gets a shot at redemption in this shambling-gumshoe delight, which sees John Hawkes channelling a drunk Colombo.
Eshom Nelms, Director; Ian Nelms, Director
Strangled
Seven years after a shocking murder, a killer strikes in the town of Martfű. Is it a copycat? Or is the wrong man in jail?
Till One Cries screening in the short films programme The Thrill of the Chase
Hanna meets Tim. They push each other to their limits.
Benjamin Leichtenstern, Director
Wrath of Silence
A Touch of Sin meets Spaghetti Western in this contemporary Chinese arthouse thriller following a mute man's search for his missing son.
Cult
78/52
Crack open the chocolate syrup, Mrs Bates is coming to stay.
Alexandre O. Philippe, Director
Body World screening in the short films programme Strange Worlds
A fully grown new born woman is birthed into a hazy summer's garden. A rose daemon emerges from the bushes.
The Cured
Ellen Page stars in one of the most original and innovative zombie films in recent memory.
The Endless
Come with an open mind. And prepare to have it blown.
Justin Benson, Director; Aaron Moorhead, Director
Ghost Stories
You say you don't believe in ghosts? Well, think again...
Jeremy Dyson, Director; Andy Nyman, Director/Screenwriter/Lead Cast
Hagazussa - A Heathen's Curse
This dark tale will put you under its spell.
Lukas Feigelfeld, Director
Homing In screening in the short films programme Strange Worlds
Joan is startled when she finds a strange man in her house, but the situation becomes all-too-familiar.
Let the Corpses Tan
Gun-toting showdowns have rarely looked so beautiful.
Hélène Cattet, Director; Bruno Forzani, Director
Lucky screening in the short films programme Strange Worlds
Lucky is looking for happiness. What does luck mean for an individual? Is failure the only possibility?
Ines Christine Geißer, Director; Kirsten Carina Geißer, Director
Maneki Neko screening in the short films programme Strange Worlds
An unexpected encounter between two strangers finds them sharing a cab to the city. The ride becomes an anatomy of a relationship through dreams and nightmares.
My Friend Dahmer
Ever wondered what it would be like to meet a serial killer in the making?
Real Gods Require Blood screening in the short films programme Strange Worlds
Troubled Alice is roped into babysitting for her neighbour, whose children claim to feed a nightly visitor from Hell.
Rift
A haunting tale of the ghosts of relationships past.
Erlingur Thoroddsen, Director
Journey
Abu
A kaleidoscopic personal documentary in the vein of Sarah Polley's Stories We Tell, exploring family dynamics, emerging sexuality and Pakistani-Canadian identity.
Araby
A teenager is drawn into the past life of his neighbour in this delicate, poetic work from Brazilian filmmakers Joao Dumans and Affonso Uchoa.
Baby Gravy screening in the short films programme London Calling
Brona believes she is four sleeps away from a hot flush and a friend called Pam. Just how far is she willing to go to make sure she doesn't miss her chance?
Marley Morrison, Director; Jade Anouka, Cast; Sophia Di Martino, Cast
Equilibrium
Tough, gripping drama about a committed, principled priest taking on the Mafia and risking his life in a poverty-stricken parish in Naples.
Fry-Up screening in the short films programme Heading for that Adult Crash
An intimate portrayal of a family's last day together.
Charlotte Regan, Director
The Journey
Iraqi filmmaker Mohamed Al-Daradji takes us into the mind of a potential female suicide bomber in this unforgettable drama.
Mohamed Al-Daradji, Director
Kara screening in the short films programme London Calling
An art school student goes on a journey to make a film about her estranged alcoholic father.
Lebanon Factory
A portmanteau feature that is an often laugh-out-loud portrait of Lebanon and all its myriad charms and idiosyncrasies.
Mounia Akl, Director; Lucie Lachimia, Director
Maybe It's Me screening in the short films programme London Calling
I remember everything. The summers, the house, the sea, the sound of the cicadas. My fears.
Pickups
Aidan Gillen stars – as not-quite-himself – in a playful comedy about an actor struggling to keep things real after his divorce.
The Rabbit Hunt screening in the short films programme Heading for that Adult Crash
Pahokee, Florida. An initiation rite is practised here for boys on the cusp of manhood.
Patrick Bresnan, Director
Samira's Party screening in the short films programme London Calling
The bonds between 14-year-old Samad and his mum are put to the test on a trip to the supermarket.
Tides
Relaxed and insightful British drama with a mumblecore edge.
To Wendy Who Kicked Me When I Said I Love You screening in the short films programme London Calling
A strange romance about two lost souls. Wendy (one good eye) and Sid are trying to connect in a mid-range hotel near an airport.
Untitled
A film about nothing is one of the year's finest documentaries, and a lyrical tribute to its late director, Michael Glawogger.
V screening in the short films programme London Calling
A 16-year-old vampire reconsiders her past relationships.
The White Girl
Debut director Jenny Suen collaborates with Christopher Doyle for this gorgeous Hong Kong-based drama, set to delight dreamers, outcasts and sensualists.
Wren Boys screening in the short films programme London Calling
On the day after Christmas, a Catholic priest from Cork drives his nephew to prison.
Create
The Ancestors Came screening in the short films programme Hoping. Fearing. Dreaming
Faith Ringgold, an African-American civil rights activist famous for her quilted narrations, recounts the stories of her past.
Antonio Lopez 1970: Sex, Fashion & Disco
Meet the man who injected sensuality, transgression and fun into the 1970s NYC and Paris fashion scenes.
The Ballad of Shirley Collins
A moving story of an important voice lost and found – one that makes us reflect on the value and meaning of heritage and ancestry.
Rob Curry, Director; Tim Plester, Director
David Stratton: A Cinematic Life
A galaxy of Aussie stars pay tribute to Australia's leading film critic, as David Stratton takes us on a journey through the nation's cinema.
Félicité
This Berlin Film Festival Grand Jury Prize-winner weaves a story around a resilient Kinshasa singer who has to fight for her child's survival.
Here to be Heard: The Story of The Slits
The hitherto overlooked story of one of British music's most influential and game-changing bands.
William Badgley, Director; Palmolive, Cast; Tessa Pollitt, Cast
Hip Hop Cafe screening in the short films programme Hoping. Fearing. Dreaming
An ensemble slice of life in a diner, where rap lyrics become part of the drama.
Manifesto
Cate Blanchett gives a tour-de-force performance in this kaleidoscopic trip through the art manifestos of the 20th century.
Julian Rosefeldt, Director; Cate Blanchett, Cast
Reinventing Marvin
Finnegan Oldfield stars as a young gay man desperate to break away, in this stirring drama from director Anne Fontaine (The Innocents).
Shogun screening in the short films programme Hoping. Fearing. Dreaming
Shogun is an unsigned grime MC, with a determination to put Scottish rap on the map.
Family
Catherine screening in the short films programme Animated Shorts for Younger Audiences
Catherine doesn't have a great track record when it comes to her pets; hopefully Kitty will be okay.
The Day My Father Became a Bush
A displaced girl must escape her home town when it becomes caught up in a civil war.
Nicole van Kilsdonk, Director
Ivan Tsarevitch and the Changing Princess
These exquisite animated tales are alive with monsters, golden fruit and pirates. Each one is enchanting and features witty dialogue and crafted visuals.
Jazzoo screening in the short films programme Animated Shorts for Younger Audiences
A colourful meeting of animals and jazz.
Adam Marko-Nord, Director
Liyana
Vividly beautiful animation brings to life a story created by group of orphans in Swaziland, in this documentary hybrid executive produced by Thandie Newton.
Aaron Kopp, Director; Amanda Kopp, Director; Shofela Coker, Art Director
Odd is an Egg screening in the short films programme Animated Shorts for Younger Audiences
Odd stops worrying about danger when he befriends a girl who is like a bee.
Experimenta
22:22 screening with Lek and the Dogs
A performance of static apnoea (holding one's breath under water) to access heightened psychological states, revealing contradictions between withdrawing from life and actively performing within it.
Charlotte Ginsborg, Director
A Blemished Code
Experimental documentary considering the life and work of pioneering holographer Margaret Benyon.
Anne-Marie Copestake, Director
Dead the Ends
Benedict Seymour's experimental feature is an urgent, engaging journey into the London riots and our current political situation via imagery from dystopian science fiction.
Elegy screening in the short films programme Surface Tensions
Ecclesiastical material is made abstract though film and light.
Erase and Forget
Investigative portrait of famous Vietnam vet, 'Bo' Gritz, the inspiration for Rambo, that exposes the complexities of how America creates its own reality.
Andrea Luka Zimmerman, Director
Films to Break Projectors screening in the short films programme Surface Tensions
Colourful animated collages of film pay homage to the qualities of 35mm.
Fishing Is Not Done on Tuesdays screening in the short films programme Surface Tensions
A mysterious edifice is suspended over the Ghanaian coast, between sea and jungle.
Le Fort des fous
A powerful meditation on colonial power and its legacy, from Algerian filmmaker Narimane Mari.
Frantz Fanon: Black Skin White Mask
World premiere of the new digitally-remastered 2K version of Isaac Julien and Mark Nash's celebrated experimental documentary about the Afro-Caribbean psychiatrist and revolutionary.
Isaac Julien, Director; Colin Salmon, Cast; John Wilson, Cast
How Can I Ever Be Late screening with Tonsler Park
A real cool recreation of Sly and the Family Stone accompanied by their famous smooth song.
Kevin Jerome Everson, Director
Lek and the Dogs
Andrew Kötting returns with an emotionally affecting and politically resonant multi-genre adaptation of Hattie Naylor's play.
Life Imitation
Cutting edge artist Chen Zhou fuses documentary, chat apps and Grand Theft Auto to build a mind-bending picture of queer lives on the edge.
The Mærsk Opera
Superflex create an operatic interpretation of the building of Copenhagen's famous performance space, one of Europe's most controversial buildings.
Nikolaj Heltoft; Anders Monrad, Directors
Olly Olly Oxen Free screening in the short films programme Surface Tensions
Julia Dogra-Brazell, Director
Snow screening in the short films programme Surface Tensions
A dynamic intervention into the nature documentary creates a different kind of monster.
Spell Reel
Filipa César's documentary following the rediscovery of the revolutionary cinema of Guinea-Bissau and its role in reclaiming national memory.
Spite Your Face
Rachel Maclean's captivating baroque reworking of Pinocchio that exposes modern greed through phallic mockery, plus Gabriel Abrantes' playful artificial intelligence comedy.
Tonsler Park
The functioning, or malfunctioning, of US democracy on Election Day 2016 as seen through the operations of polling stations in Charlottesville, Virginia.
Kevin Jerome Everson, Director
Tripoli Cancelled
The modern migrant experience as expressed through one man's struggle to survive, trapped in an abandoned airport for a decade.
Naeem Mohaiemen, Director
What Time Is Made Of screening in the short films programme Surface Tensions
Found footage that inspired the learning of language.
Join the BFI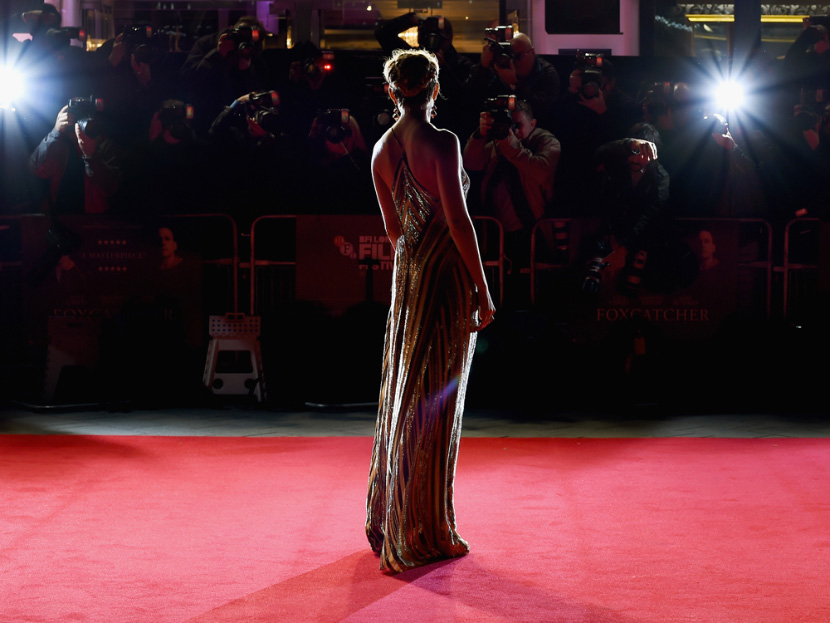 BFI Membership
Enjoy priority booking for the BFI London Film Festival, and a world of benefits year round.