Durban Poison
Death on the road marks director Andrew Worsdale's return with his thriller based on a South African couple's notorious 1980s killing spree.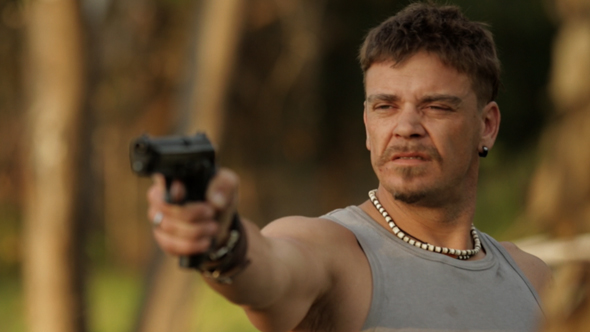 Director-Screenwriter Andrew Worsdale
Producers Diony Kempen, Deon Meyer, Carmel Nayanah
With Brandon Auret, Cara Roberts, Gys De Villiers, Marcel Van Heerden
South Africa

2013

in English and some Afrikaans with English subtitles
94 mins
Production company Karoo Film Company
After an absence of almost three decades the maverick South African writer director Andrew Worsdale is back with a film that offers a unique approach to a familiar Bonnie and Clyde genre reworking. Following a police investigation into four murders, this road movie charts the doomed romance of its two protagonists and is inspired by the story of Charmaine Phillips and Pieter Grundlingh, a South African couple that went on an alcohol and drug-driven killing orgy in the 1980s for more than a fortnight, leaving a trail of bodies in their wake. Durban Poison offers a profound insight into the outlaw lovers and the marginalised white South African working class, with a stand out performance by Brandon Auret as the brutal Pieter Grundlingh. A deserving Best South African Film award winner at the 2013 Durban International Film Festival, this is an emotionally affecting and handsomely paced thriller from a filmmaker who has been away for too long.
Keith Shiri