Divines
The gangster genre is given a shrewd feminist makeover in this arresting debut about a young girl embarking on a life of crime.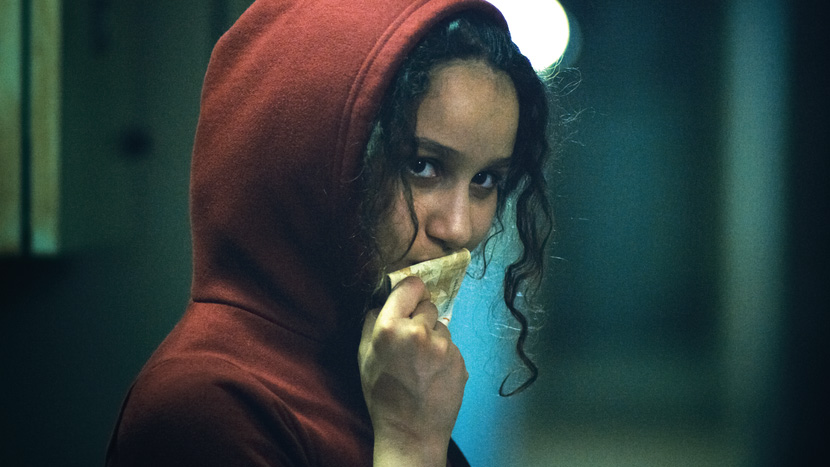 Dir Houda Benyamina
Prod Marc-Benoît Créancier
Scr Romain Compingt, Houda Benyamina, Malik Rumeau
With Oulaya Amamra, Majdouline Idrissi, Déborah Lukumuena
France-Qatar 2016
106min
UK Distribution Netflix
These members of the filmmaking team are expected to attend the festival:
Oulaya Amamra, Cast; Houda Benyamina, Director; Déborah Lukumuena, Cast
See the full list of visiting festival guests. Please note that we can't guarantee guest attendance at any particular screening.
With staggering self-assurance and disarming creativity, director Houda Benyamina bursts onto our screens with the frenetic story of Dounia, a teenage girl living in a crime-fuelled suburb on the outskirts of Paris. Along with her best friend Maimouna, the budding entrepreneur vies for the attention of local dealer Rebecca, whilst simultaneously embarking on a fraught emotional relationship with a handsome male dancer who has caught her eye. But as Dounia's work and personal lives rapidly escalate, her control begins to slip and she soon finds herself dangerously out of her depth. A neat feminist twist on the typically male-centric terrain of the gangster thriller, this imaginatively directed and sharply-performed drama signals the arrival of some major new talents. In its depiction of female friendships and power dynamics, the film makes for an interesting companion piece to Céline Sciamma's Girlhood, while as a vibrant explosion of youthful energy and imagination, it stands defiantly on its own.
Michael Blyth
Read Sight & Sound's review of the film, by Isabel Stevens.
Image gallery