Cop Secret
Two maverick Icelandic policemen pair up – in more ways than one – to catch a ruthless crime lord in this fast and furiously funny action spoof.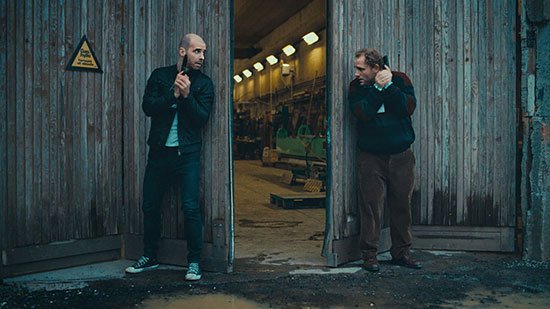 Director-Screenwriter

Hannes Thór Halldórsson

Producer

Lilja Ósk Snorradóttir

Screenwriters

Nína Petersen, Sverrir Thór Sverrison, Hannes Thór Halldórsson

With

Audunn Blöndal, Egill Einarsson, Björn Hlynur Haraldsson

Iceland 2021. 98min

Sales

alief

Language

Icelandic

With English subtitles
Cop movie cliches have been sent up before, but this Icelandic action comedy takes the homoerotic subtext of so many buddy movies and unapologetically comes out all guns blazing. Rival law enforcers, rough-edged slugger Bússi Bödvarsson (Audunn Blöndal) and slick ex-model shooter Hördur Bess (Egill Einarsson) reluctantly join forces to stop criminal mastermind Rikki Ferrari (Björn Hlynur Haraldsson). Desperate as they are to stop Ferrari's bank heists, they may just, despite Bússi's initial denial, want each other even more. Cop Secret embraces the genre's more ludicrous tropes – expendable henchmen, Mexican standoffs – then gleefully squeezes them tighter. Debut feature director – and Iceland's international goalkeeper, no less – Hannes Thór Halldórsson deftly adds his own surreal flourishes, so when these cops shoot over the top everybody still scores.
Leigh Singer