The Colour of Pomegranates
Sayat Nova / Nran Guyne
The film that Martin Scorsese compared to 'opening a door and walking into another dimension, where time has stopped and beauty has been unleashed'.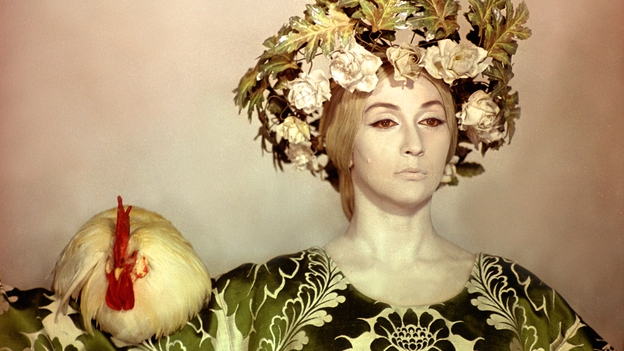 Open image gallery
Director Sergei Parajanov
Producer Sergei Parajanov
Screenwriter Sergei Parajanov
With Sofiko Chiaureli, Melfkon Alekian, Vilen Galustian
Armenia

1969

77 mins
Sales The Film Foundation – World Cinema Project
Following the international success of Shadows of our Forgotten Ancestors (1964), Sergei Parajanov was commissioned by Armenfilm Studios in Yerevan to make a film about the life of the 18th-century Armenian ashugh, Sayat Nova. Eschewing the conventional biopic, Parajanov chose the cinematic visualisation of Sayat Nova's poetry, mixing ethnic rituals with surrealistic happenings. Deemed inaccessible by Soviet authorities, it was re-cut and given a nominal release under the title The Colour of Pomegranates. This 4K restored version presents the original Armenian cut, complete with Parajanov's preferred stream of consciousness narrative. The apotheosis of the poetic tradition in Soviet cinema kick-started by Dovzhenko, Sayat Nova still exerts a strong influence on contemporary art house cinema.
Daniel Bird
Restored by Cineteca di Bologna/L'Immagine Ritrovato and The Film Foundation's World Cinema Project, in association with the National Cinema Centre of Armenia and Gosfilmofond of Russia. Restoration funding provided by the Material World Charitable Foundation and The Film Foundation.
The screening on Friday 10 October will be Digital 4K. The screening on Sunday 12 October will be Digital 2K.