Clash
Eshtebak
Mohamed Diab's Clash is an unforgettable portrait of Egypt on the brink as rival protestors find themselves locked up in a police van.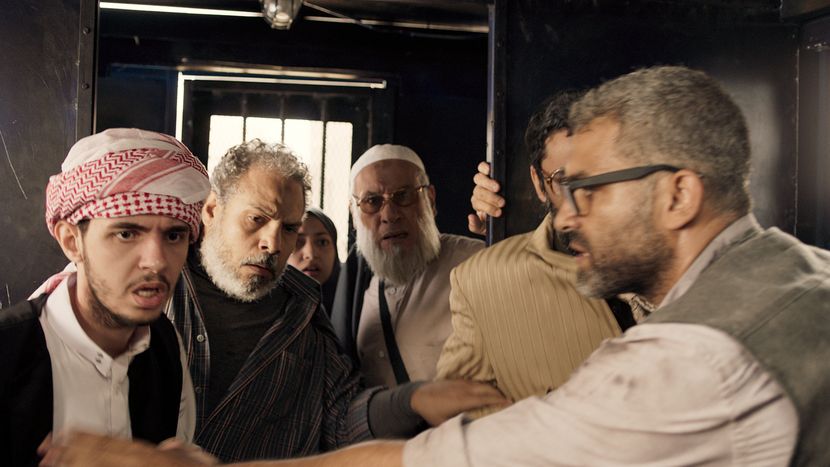 Dir Mohamed Diab
Prod Moez Masoud, Mohamed Hefzy, Eric Lagesse
Scr Khaled Diab, Mohamed Diab
With Nelly Karim, Hany Adel, Tarek Abdel Aziz
Egypt-France-Germany 2016
97min
UK Distribution Arrow Films
These members of the filmmaking team are expected to attend the festival:
Mohamed Diab, Director
See the full list of visiting festival guests. Please note that we can't guarantee guest attendance at any particular screening.
Mohamed Diab confirms his status as Egypt's foremost cultural commentator with Clash, a masterful depiction of a society torn apart by its differences. Where Diab's previous 678 tackled female harassment in Egyptian society, Clash's scope is even more ambitious: the future of the nation. Egypt has long been the centre of the film industry in the Arab world. Following the heady 18 days in 2011, which saw a people-led revolution overthrow the decades long rule of Hosni Mubarak, there have been no shortage of films attempting to capture the epochal events. Most have already dated, framed as they are in the white heat of the moment. Diab's film possesses a more long-term perspective.
Set in 2013, after mass protests saw the ruling Muslim Brotherhood thrown out of power by the army, Clash unfolds almost entirely within the claustrophobic confines of a police van as rival demonstrators find themselves caught in impossibly stifling heat. From this simple set-up, Diab weaves a striking story of scale, ambition and pure cinematic verve, pulling off a remarkable feat; a road movie about confinement. The film's surprisingly strong performance at the Egyptian box office is testament to its power to move and enthral, leaving audiences breathless with a magnificent denouement that artfully evokes the faultlines in the Arab world's most populous nation.
Ali Jaafar
Image gallery