Sonic Gala in association with MOBO Film
Chi-Raq
Spike Lee reimagines Aristophanes' ancient Greek play Lysistrata as a dazzling modern-day hip-hop musical set in Chicago.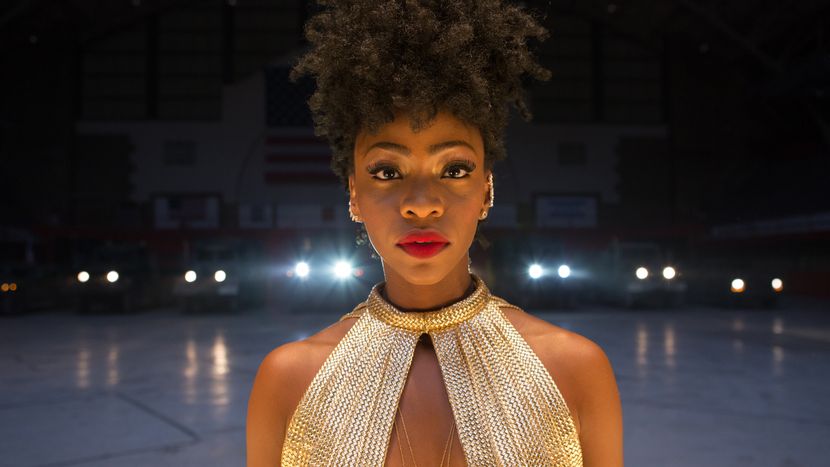 Dir-Prod Spike Lee
Scr Kevin Willmott, Spike Lee
With Nick Cannon, Teyonah Parris, Wesley Snipes, Angela Bassett, Samuel L Jackson, John Cusack
USA 2016
127min
UK Distribution Vertigo Releasing
Spike Lee is back on the rampage and the result is this dazzling, rage-fuelled, in-your-face hip-hop musical that re-purposes Aristophanes' Lysistrata – a comedy about a Greek heroine who leads a sex-strike to prevent war – setting it in Chicago's South Side. Chi-Raq (Nick Cannon) is the leader of the Spartans and the lover of foxy, feisty Lysistrata (Teyonah Parris). The Spartans are at war with rival gang, the Trojans, led by Cyclops (Wesley Snipes). When an 11-year-old-girl is killed in the crossfire of a gang battle, Lysistrata decides to take action. On the advice of her activist neighbour Miss Helen (Angela Bassett), she convinces all the sisters, on both sides, to take a stand. Their rally cry: "No peace, no pussy". Needless to say, deprivation undoes the men. Song lyrics, spoken word and on-screen titles bring it home. This is scorching social analysis framed as raunchy entertainment. And in case you're not getting it (or getting any), Samuel L Jackson breaks it down – a one-man chorus in a nifty three-piece suit. At its core, Chi-Raq is deadly serious (the title conflates Chi-cago and I-raq) and the film underscores that there have been more gun-related deaths in Chicago in the last 15 years than in Iraq and Afghanistan combined. When it's over, go download (legally, please) Mai Zetterling's Lysistrata adaptation The Girls for more.
Clare Stewart
Image gallery