American Express® Gala
Carol
Todd Haynes presents an intoxicating and immaculate adaptation of Patricia Highsmith's beloved novel.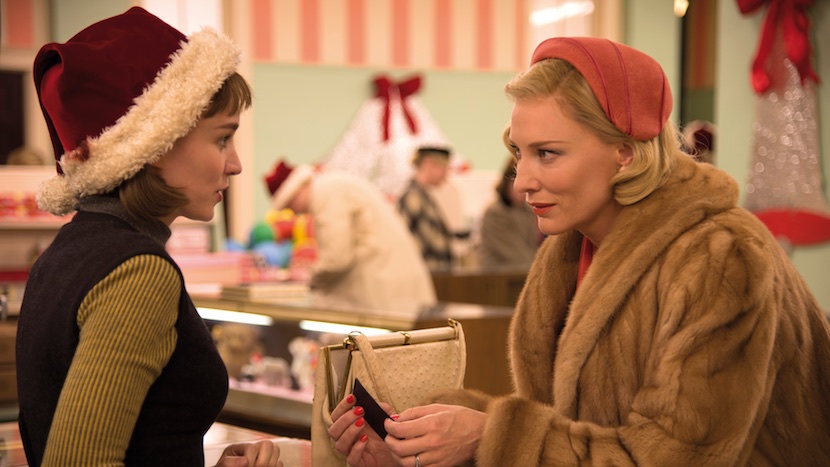 Director Todd Haynes
Producers Elizabeth Karlsen, Christine Vachon, Stephen Woolley
Screenwriter Phyllis Nagy
With Cate Blanchett, Rooney Mara, Kyle Chandler, Jake Lacy, Sarah Poulson
USA-UK 2015
118 mins
UK distribution STUDIOCANAL
Cinema at its most intoxicating and immaculate, Todd Haynes' Carol is a deeply romantic, emotionally honest love story about two women who courageously defy the suffocating conformities of mid-century America. Therese (Rooney Mara) is an aspiring photographer, working in a Manhattan department store where she first encounters Carol (Cate Blanchett), an alluring older woman whose marriage is breaking down. Ambushed by their sudden attraction, the two women gravitate toward each other despite the threat their connection poses to both Therese's relationship with her steady beau and Carol's custody of her beloved young daughter. Blanchett is magnificent as Carol, whose elegant poise thinly veils her crumbling interior world, whilst Mara is mesmerising as the ingénue whose capacity for love awakens a newfound fearlessness. Phyllis Nagy's (Mrs. Harris) adaptation deftly retains the rich interiors and exquisite tension of Patricia Highsmith's groundbreaking novel The Price of Salt, written and published in 1952 at a time when its subject was considered scandalous. Haynes has created a shimmering companion work to both his lush Technicolor melodrama Far From Heaven and the shadowy domestic noir Mildred Pierce, adopting a starkly different, more naturalistic prism through which to examine the contradictory optimism and paranoia of post-war America and its oppressive social mores. Whilst never abandoning its characters and their story, the film also consistently reveals the power of the image itself – Therese's interest in photography, a glimpse of Sunset Boulevard, and Haynes' brilliant use of the gaze in the film's final moments. It also knowingly plays with the image of perfect femininity – the dolls at the counter where Therese works, the Christmas department store trappings reminiscent of Sirk's Imitation of Life. Haynes' filmmaking eloquence is sublimely enhanced by the cinematography of frequent collaborator Ed Lachman (who filmed with Super 16mm to produce the muted hues of glamour magazines of the era), the precision of Judy Becker's production design and the expressive palette of Sandy Powell's gorgeous costumes.
Clare Stewart
See Screen Talk with director Todd Haynes
Image gallery