The Blue Room
La Chambre bleue
Mathieu Amalric directs himself as a two-timing everyman pinned under the wheels of fate, in a precision-tooled and powerfully sad adaptation of Georges Simenon.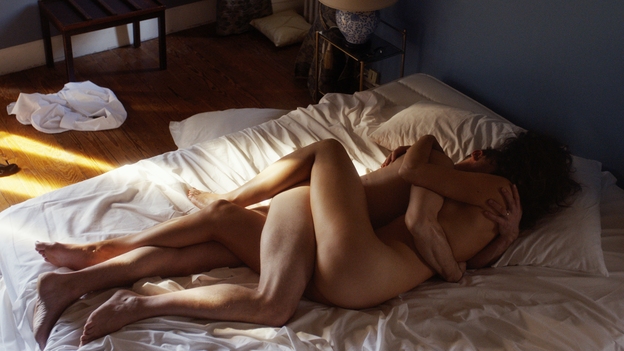 Open image gallery
Director Mathieu Amalric
Producer Paulo Branco
Screenwriters Stéphanie Cléau, Mathieu Amalric
With Mathieu Amalric, Léa Drucker, Stéphanie Cléau
France

2014

76 mins
Production company Alfama Films
Love is a spiked cage in Mathieu Amalric's latest film as a director-star, following 2010's friskily enjoyable burlesque drama On Tour. Adapting Georges Simenon's 1964 mystery, Amalric takes the lead as Julien, a farm machinery rep drowning in lust for his inamorata, a pharmacist's wife played by the coolly sexy Stéphanie Cléau (who co-wrote). On many a Thursday afternoon, they sneak off to a provincial hotel suite, leaving Julien's wife (Léa Drucker) seemingly none the wiser. The timeframes are sliced and diced in jittery, docu-drama style – it's a rapid-fire report on adultery and possible foul play, hopping forward to Julien's interrogation in a cramped judicial office, and back to his many lies. The cost of this liaison can only be guessed at first, but Amalric's dishevelled, movingly desperate star turn keeps us perpetually on edge. Boxed into 4:3 and carrying barely an ounce of fat, it's half-thriller, half-tragedy.
Tim Robey