Blood
Krov
Alina Rudnitskaya's compelling documentary, shot in black and white, presents a vivid portrait of Russian rural life by following the work of a roving blood transfusion service.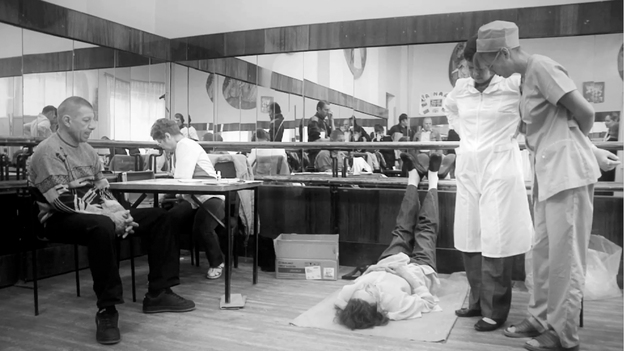 Open image gallery
Director Alina Rudnitskaya
Screenwriter Sergey Vinokurov
Russia

2013

59 mins
Sales Deckert Distribution
Filmed in stark black and white, Alina Rudnitskaya's award-winning documentary charts the lives and routines of a Russian blood transfusion team as their mini-van travels to remote, almost out of reach towns. Their task is to collect blood from the local people and as each donation provides a source of income the queues are long. But under the guise of a straightforward 'documentary', the film offers a striking portrait of small town life in contemporary Russia, as well as of the clinical team itself. Against a world of hardship and contradiction, we encounter unforgettable characters, dry humour, absurdity and friendship. As the director said, these extraordinary characters were found, not invented. Not for the squeamish.
Peter Hames
Winter
Zima
Director Cristina Picchi
Russia

2013

12 mins
A dazzling journey through Siberia, in the harshest of climates.