Education event
BFI Future Film Day
A full day of activities for young filmmakers and film programmers.
15 October
BFI Southbank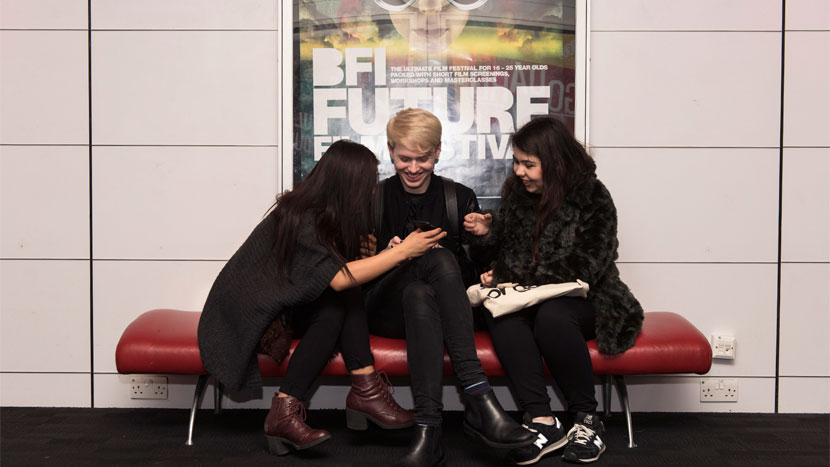 BFI Future Film is for 15-25s who love film, including monthly events and the Future Film Festival.
£6 per event
The LFF Short Film Award 2016: Meet the Filmmakers
15 October
10:30-12:00
BFI Southbank (Studio)
A special screening of some of the fantastic shorts nominated for the LFF's Short Film Award this year, including a discussion with programmers and some of the filmmakers.
Copy Writing for Film Programmers
15 October
13:00-14:30
BFI Southbank (Blue Room)
An inspiring hands-on workshop for film programmers: draw in your audience in by crafting engaging and informative copy!
We are delighted to confirm the speakers for this event:
Ashley Clark is a film programmer and journalist from London, now based in New York. He is the season programmer of Black Star (BFI Southbank, Oct—Dec 2016), writes for publications including The Guardian, Vice, and Sight & Sound, and is a regular guest critic on the BBC Film show. His first book is Facing Blackness: Media and Minstrelsy in Spike Lee's Bamboozled (The Critical Press, 2015).
Simran Hans is a freelance journalist and film programmer specialising in race and gender. She has written for publications including the BFI, BuzzFeed, Dazed, Little White Lies and Sight & Sound magazine, and has curated and hosted events in partnership with Barbican, BFI, ICO, Little White Lies, MUBI, Sheffield Doc/Fest, Tate and Underwire Festival among others. Currently she is programming and producing The Bechdel Test Fest, an ongoing celebration of films that pass the Bechdel Test and represent women in a positive and progressive light. Find out more about her work at simranhans.com and follow her on Twitter @heavier_things.
Michael Leader is editor of Film4.com and has been working in the film industry for eight years. For Film4 he conducts interviews and writes features that tie in with programming on the Film4 television channel and films developed and funded by Film4 Productions. He also covers film festivals for the Film4 blog and oversees Film4's social media accounts. As a freelancer he writes reviews and features for outlets including Little White Lies and Sight & Sound, programmes screenings of underseen and underscreened films for Misc. Films, and is currently in post-production on the short film I Do Not Sleep. Before joining the Film4 team, he worked for BAFTA. He can be found on Twitter as @michaeljleader.
Social Media for Film Programmers
15 October
15:30-17:00
BFI Southbank (Blue Room)
Which social media, when and how? Meet successful social media makers and learn the tricks of the trade to build followers for your film programmes.
Please complete the appropriate form to request tickets for this education screening:
• Festival education booking form for individuals
• Festival education booking form for groups