Being 17
Quand on a 17 ans
Hormonal aggression sparks an intense enmity between two 17-year-old schoolboys in the snowy Pyrenees, until the true connection between them surprises everyone.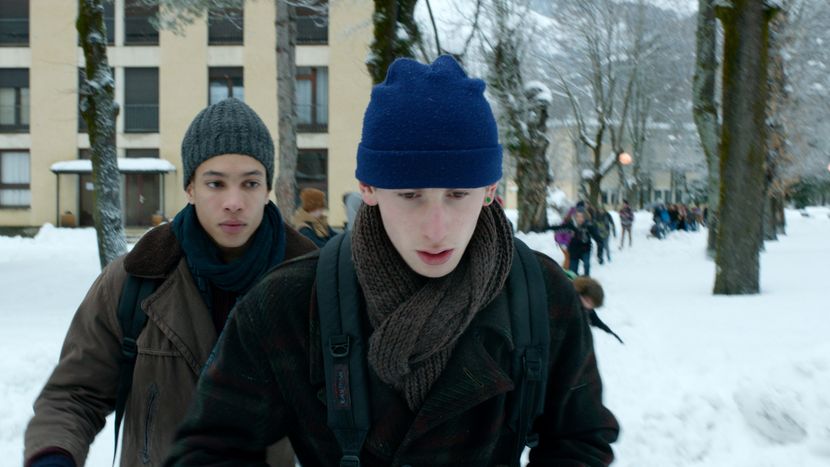 Dir André Téchiné
Prod Olivier Delbosc, Marc Missonnier
Scr Céline Sciamma
With Sandrine Kiberlain, Kacey Mottet Klein, Corentin Fila
France 2016
116min
Sales Elle Driver
73-year-old Frenchman André Téchiné, veteran of 20 films, finds one of his most joyous subjects in the roiling tensions of late adolescence. And it's cause for much celebration as Being 17 is one of the director's best films. This exuberant drama is forged from a superb script by it-woman Céline Sciamma (whose My Life as a Courgette is playing in the festival). And it's sent soaring by the magnetism of its two leads. Kacey Mottet Klein plays a loner kid with a rhinestone earring, while male-model-turned-electric-breakout-star Corentin Fila is even more of an outsider. As fellow classmates in a Pyrenean farming community, Damien and Tom are the best of enemies, locked in daily combat which turns ever-more violent, and more peculiarly ritualised. Damien's mother (Sandrine Kiberlain) can't yet fathom what's happening, but inviting Tom in as a boarder pushes their antagonism into a will-they-won't-they realm that stays thrillingly on a knife edge. This pair's chemistry could move mountains.
Tim Robey
Image gallery