Beasts of No Nation
A chilling portrait of the plight of child soldiers, told from the perspective of one young boy.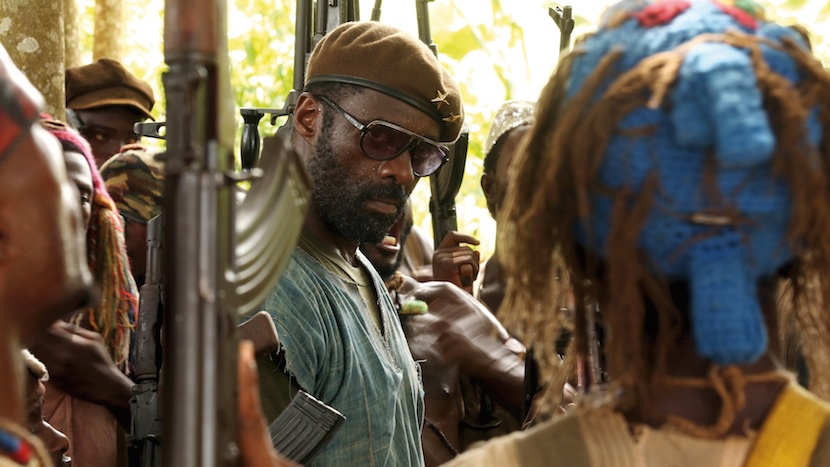 Director Cary Fukunaga
Producers Cary Fukunaga, Amy Kaufman, Daniela Taplin Lundberg, Riva Marker, Dan Crown
Screenwriter Cary Fukunaga
With Idris Elba, Abraham Attah
USA 2015
136 mins
UK distribution Netflix
Cary Fukunaga's (True Detective, Jane Eyre, Sin Nombre) unflinching adaptation of Uzodinma Iweala's 2005 novel of the same name (itself borrowed from Fela Kuti's 1989 album) is at once enthralling cinema and a gut-wrenching indictment of child exploitation. In an unnamed African country, civil conflict rips through the village where Agu, a sparky young boy, lives with his family. Witnessing unspeakable atrocities, including the brutal execution of his father and older brother, Agu is forced to run for his life. He is discovered, dazed and traumatised, by a group of rebel soldiers and is swiftly incorporated into their ranks by a fierce mercenary. The Commandant (Idris Elba), who receives his own orders from afar and for an unknown purpose keeps his militia fuelled with a heady mix of intoxicating bravado and hard drugs, maintains control through psychological and physical abuse. Rapidly adapting in order to survive, Agu is pushed to unthinkable limits. Idris Elba is charismatic and terrifying as the unhinged Commandant and newcomer Abraham Attah is a revelation as Agu, delivering a performance that (like his character) carries a weight beyond his years. Whilst deeply true to its African subject, the film resonates darkly beyond its situation, serving as a harsh reminder of childhoods destroyed in war zones and deprived urban areas everywhere.
Clare Stewart
Image gallery