Royal Bank of Canada Gala
Arrival
Amy Adams and Jeremy Renner star as the humans who make first contact with extraterrestrial visitors in this richly textured sci-fi from director Denis Villeneuve.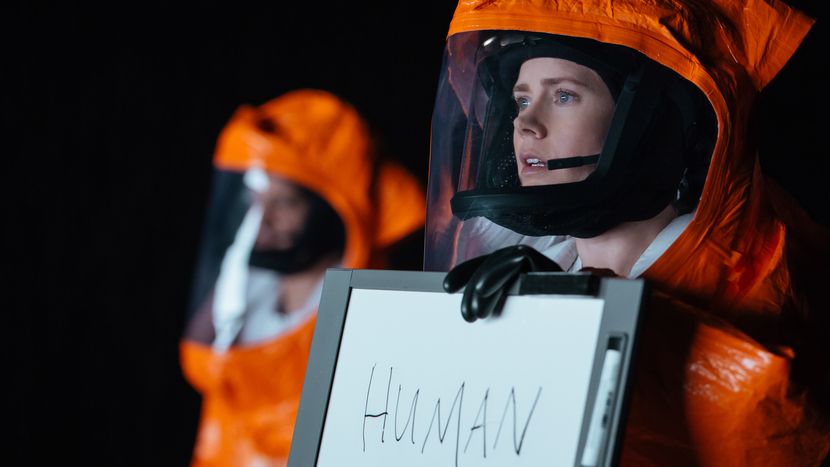 Dir Denis Villeneuve
Prod Shawn Levy, Dan Levine, Aaron Ryder, David Linde
Scr Eric Heisserer
With Amy Adams, Jeremy Renner, Forest Whitaker, Michael Stuhlbarg
USA 2016
116min
UK Distribution Entertainment One
These members of the filmmaking team are expected to attend the festival:
Amy Adams, Cast; Jeremy Renner, Cast
See the full list of visiting festival guests. Please note that we can't guarantee guest attendance at any particular screening.
Canadian director Denis Villeneuve's (Sicario, Prisoners, Incendies) versatile and prolific creative streak continues with Arrival, an emotionally arresting, visually inventive science fiction based on the award-winning Story of Your Life by Ted Chiang. Professor of linguistics Dr Louise Banks (Amy Adams) is enlisted by the US government to decipher the language of extra-terrestrials who initiated first contact. She is accompanied by scientist Ian Donelly (Jeremy Renner) on a mission to determine the purpose of their mysterious visitation. As the military manoeuvres around the operation become increasingly fraught, the two outsiders are drawn together in their search for understanding. Global in its scope and lyrical in form, the film's narrative structure shape-shifts, reflecting the changing perception of time experienced by Dr Banks as she gets closer to comprehending the unfathomable alien messages. The story is underpinned by an extremely resonant interest in the importance of translation, not only the direct challenge of decoding this new language, but also in the forging of international cooperation between countries to prevent conflict. A universe away from traditional alien invasion films, Arrival is ultimately a cinematic paean to human life – its intimacy, complexity and grandeur, and to what keeps us connected to each other – communication, memory, and the experience of love and loss.
Clare Stewart
Image gallery