Festival Special Presentation
American Honey
Andrea Arnold dazzles with a sun-soaked and tune-filled epic about door-to-door teenage magazine sellers travelling the American highways.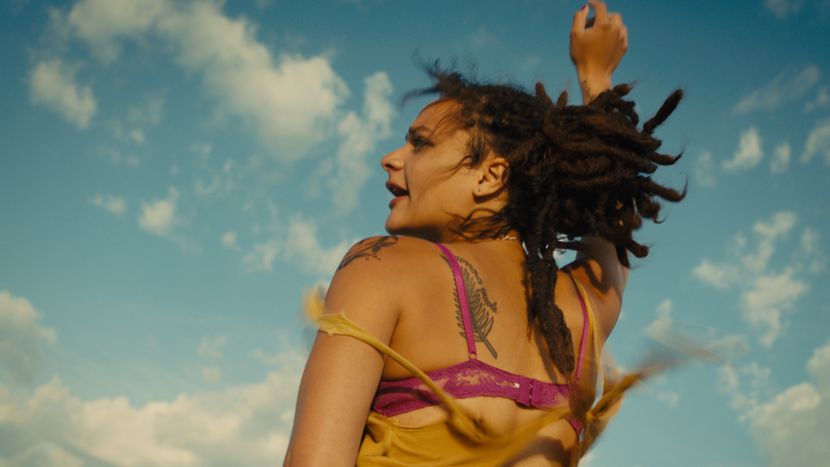 Dir-Scr Andrea Arnold
Prod Lars Knudsen, Jay Van Hoy, Pouya Shabazian, Alice Weinberg, Thomas Benski, Lucas Ochoa
With Sasha Lane, Riley Keough, Shia LaBeouf
USA-UK 2016
165min
UK Distribution Universal Pictures
These members of the filmmaking team are expected to attend the festival:
Andrea Arnold, Director; Rachel Clark, Camera; Marisa Clifford, Producer; Sasha Lane, Cast; Lucas Ochoa, Producer
See the full list of visiting festival guests. Please note that we can't guarantee guest attendance at any particular screening.
Rhianna's 'We Found Love (in a Hopeless Place)' blares from the Walmart tannoy when Star (Sacha Lane) and Jake (Shia LaBeouf) lock eyes. She's transfixed by his raffish good looks and charisma. So when he asks her to join his ragtag band of teenage travelling magazine sellers, she briefly hesitates – only at the thought of leaving her half-siblings with their deadbeat mother and her drunkard boyfriend. In American Honey, Andrea Arnold (Fish Tank, Red Road) creates a lyrical story set on America's highways, with echoes of Malick and Van Sant. But the British director brings an outsider's delight to observing the people. Whether it's Star, Jake, one of the oft-revolving mag crew, or their reclusive boss Krystal (Riley Keough, here, an imperious presence with porn-star glamour), Arnold clearly loves her characters' contradictory rough-edged tenderness. And as in her early short Wasp, she sharply observes the socio-economic divides of the country.
In an expansive three hours, American Honey offers scale and space to get to know its central character, the intimacy fostered by Arnold and her long-time cinematographer Robbie Ryan with their regular 4:3 camera ratio. And what a central character: Lane's Star is spellbinding at the heart of the film – sensual, defiant, forming unexpected allegiances with the strangers she meets on the road, and offering an almost transcendental moment of hope in the movie's exquisite last shot. American Honey is as epic as Steinbeck's portraits of America, but ultimately more full of joy – and with a seriously banging soundtrack.
Tricia Tuttle
Read Sight & Sound's review of the film, by Alissa Simon.
Image gallery