'71
Experience the inferno of bomb-torn Belfast in 1971, as a young British squaddie (Jack O'Connell) gets caught behind enemy lines.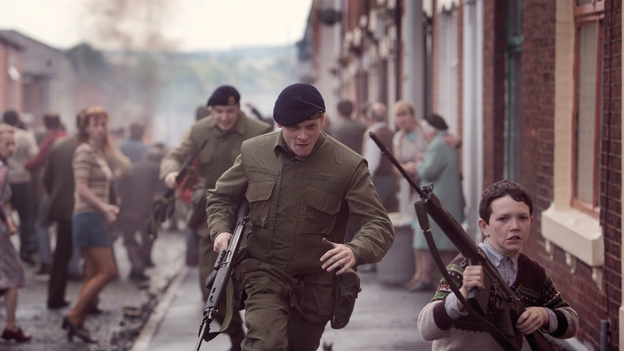 Open image gallery
Director Yann Demange
Producers Angus Lamont, Robin Gutch
Screenwriter Gregory Burke
With Jack O'Connell, Paul Anderson, Richard Dormer
UK

2014

96 mins
UK distribution STUDIOCANAL
Imagining the streets of 1971 Belfast as a terrifying netherworld and trust-free zone, this is one of the most accomplished British films of the year, a debut to die for, and just the latest vehicle for the grittily magnetic talents of Jack O'Connell. He plays Gary Hook, a squaddie fresh out of training school, whose unit is dispatched during that fatefully violent year to help with peacekeeping in the Northern Irish capital. They've barely taken to the streets before rioting breaks out and Gary finds himself cut adrift from his companions, chased by provisional militia and reliant on the mercy of loyalist allies who offer no sure hope of sanctuary. The brilliantly economical script, by Scottish playwright Gregory Burke, creates a complex web of competing agendas without belabouring the politics, while director Yann Demange crafts an aura of nocturnal threat with John Carpenter-like expertise. A stone-cold masterclass in ruthless verité suspense.
Tim Robey