3 Hearts
3 coeurs
Charlotte Gainsbourg plays a woman caught in a play of love, fate and narrative coincidence, in Benoît Jacquot's sly, eerie and entertaining tale of chance-crossed love.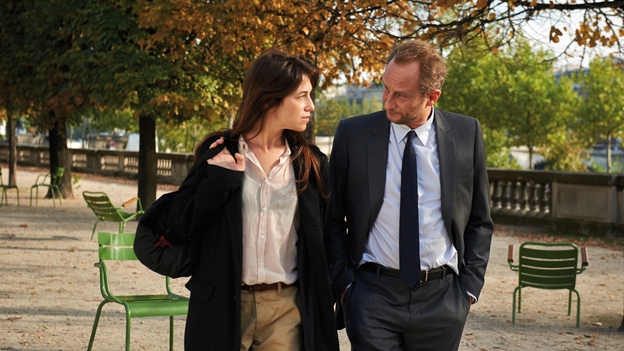 Open image gallery
Director Benoît Jacquot
Producers Edouard Weil, Alice Girard
Screenwriters Benoît Jacquot, Julien Boivent
With Charlotte Gainsbourg, Benoît Poelvoorde, Chiara Mastroianni, Catherine Deneuve
France

2013

90 mins
UK distribution Metrodome Group Ltd
A tax official misses his train home from a provincial town, where he meets a mysterious woman. Something sparks, and they decide to meet again, but chance intervenes. Later, the man revisits the same town and clicks with another woman, but they're both in for a surprise. 3 Hearts is a love story about fate, or randomness; opportunities missed and taken; and the mysterious forces of attraction. It's also a mischievous game that plays with the conventions of storytelling and the use and abuse of coincidence. Benoît Jacquot's sly and, despite its ironies, surprisingly moving tale acquires a special edge from the casting of Benoît Poelvoorde, French/Belgian cinema's perennial anxious Everyman, opposite the ever-compelling Charlotte Gainsbourg and Chiara Mastroianni. Elegant visuals and Bruno Coulais's eerie score pull us deep into a narrative that hovers teasingly on the edge of the unreal.
Jonathan Romney