Festival FAQ
What time does the festival start?
Doors and box office/festival ticket desk will open at 9:30am each morning for ticket collection.
We recommend getting here early to avoid large queues before the opening keynote speech at 10.30am. It is strongly advised to be on time to each event as late arrivals might not be guaranteed entry.
Is there an age limit for the Future Film Festival?
Because some of the session/film content is rated at 16 and over, the age limit for the festival is restricted to 16-25 year olds.
Are there any events younger people are not allowed to go to?
At 5pm each day of the festival there will be a Networking Drinks reception with alcohol. If you are 18 or over please bring proof of age (passport/driving license etc) with you on the day. Under 18s will be allowed access to the event but will not be served alcohol.
Can I book for an individual session?
No, we only sell one-day or festival passes. When you buy your one-day or festival pass, you can select the individual events during the day that you would like to go to.
I've changed my mind and would like to swap one or more of the sessions I booked at the time of buying my ticket. Can I swap any sessions for others?
Yes! We operate a 'swap-shop' during the festival. Subject to availability on the day, you may be able to swap your ticket for a session for one to another session at the same time. Please arrive between 9.30am – 10.00am at BFI Southbank festival information desk to arrange.
What shorts have been selected for the festival?
You can find all the shorts selected for the festival on our Films page.
What if I want to book for a group of students?
Please contact futurefilm@bfi.org.uk to discuss a group booking.
Can adult chaperones attend the festival with groups or individuals?
We welcome chaperones who are attending with groups or individuals. As an adult chaperone you will not need to purchase a ticket to the festival. Please contact us in advance at futurefilm@bfi.org.uk to arrange.
What other discounts can you offer?
We can offer discounted rates for refugee / asylum seekers, young carers and benefits recipients. Carers of attendees can attend for free but will require a ticket. Please contact us in advance to arrange. Contact us directly at futurefilm@bfi.org.uk to enquire.
Is the festival accessible?
The festival is held at the BFI Southbank, which is fully accessible. All of the venues are accessible for wheelchair users, with limited wheelchair spaces available in the cinema spaces. Please let us know if you are a wheelchair user and would like to attend any of the events in cinema spaces. If you require any additional assistance or have any questions please contact us at futurefilm@bfi.org.uk
Full access information can be found at whatson.bfi.org.uk/Online/access-information
Can I return my festival ticket?
We are not able to offer returns, refunds or exchanges on festival tickets to any customers including BFI Champions and Members.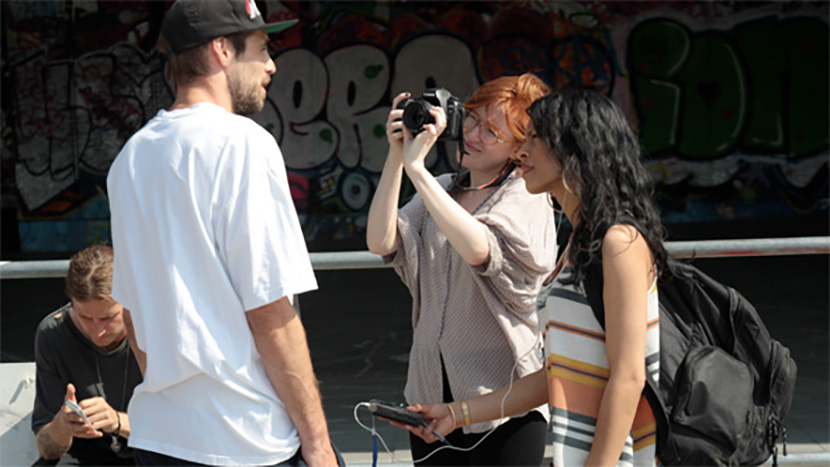 Future Film at BFI Southbank
A monthly programme of screenings and workshops for 16-25 year olds.