Centrepiece screening
Torrey Pines
With live score
A feast for the eyes, this psychedelic coming-of-age road trip is both a stop-motion animation feature, and a theatrical show with live score from Queercore band, 'Your Heart Breaks'.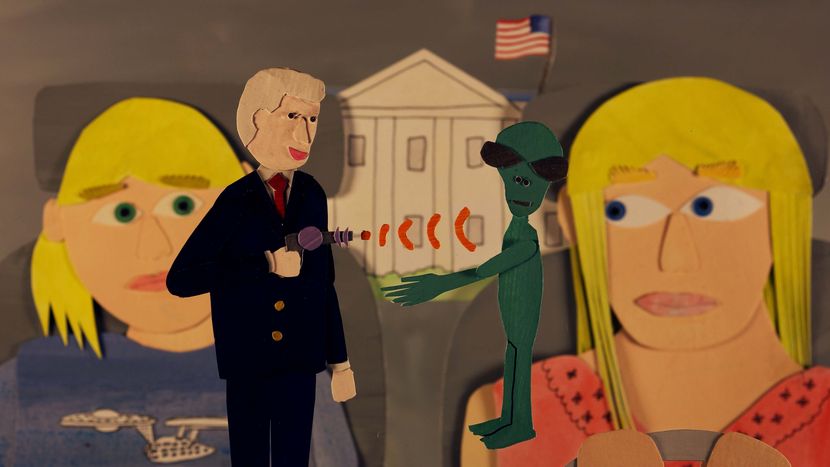 Dir Clyde Petersen
Prod Clyde Petersen, Chris Looney, Keith Bacon, Theo Hilton, Jenny Asarnow
USA 2016
60min
Prod Co Do it for the Girls Productions
These members of the filmmaking team are expected to attend the festival:
Clyde Petersen, Director; Zach Burba, Musician; Jacob Jaffe, Musician.
See the full list of visiting festival guests. Please note that we can't guarantee guest attendance at any particular screening.
Stop-motion animator and artist Clyde Petersen returns to the Festival for a third time, following triumphant collaborations with Ivan Coyote and Rae Spoon on Gender Failure (BFI Flare 2013) and My Prairie Home (BFI Flare 2014). His latest, a captivating, semi-autobiographical tale, recounts a strange journey taken by Clyde when he was 12. His schizophrenic mother, battling paranoid delusions about aliens and conspiracy theories, took him on a road trip that resulted in their crossing America, but also saw them reported to the police as missing. Amidst this mayhem, young Clyde grapples with gender identity and an emerging queerness. A touching and heartfelt coming-of-age story, Torrey Pines is a feast for the eyes – original and hallucinatory as it takes you on a rollercoaster journey through loneliness and confusion, yet sensitively employing humour throughout. Working with a production crew out of Clyde's bedroom, the beautiful, hand crafted animation took three years to complete. Adding to the team's skilful creativity, the complex emotions are explored almost entirely without dialogue and with just the odd song lyrics littered throughout. Petersen states that he is keen for the film to work beyond the language barrier. As he notes, 'language has a lot of room for misunderstandings. Visual facts are a little bit harder to misinterpret.' This psychedelic cross-country travelogue features a live score by Queercore band Your Heart Breaks.
Zorian Clayton
Image gallery