Tattoo
Tatuagem
An extraordinary Brazilian theatre troupe live the revolution.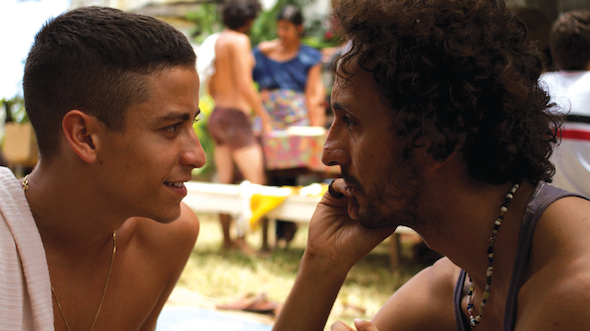 Image gallery
Director-Screenwriter Hilton Lacerda
Producers João Vieira Jr. Chico Ribeiro, Ofir Figueiredo
With Irandhir Santos, Jesuita Barbosa, Rodrigo Garcia, Sylvia Prado
Brazil

2013

110 min
Sales Imovision
This is a dramatic recreation of a group of larger-than-life characters who performed at an outrageous cabaret throughout the late 1970s period of the dictatorship in Brazil. The central character of Clécio is the leader; he represents a boldly anarchic whirlwind of energy, both artistic and sexual. When his lover brings home his brother-in-law Fininha, an 18-year-old policeman, Clécio falls in love and things begin to get out of control. How sexual provocation, nudity, drugs, glitter and hard-hitting satire managed to survive as an outrageous beacon of sanity in Brazil's dark days is a near miracle. You won't forget the asshole song or the loves and upsets of these indefatigable troupers in the sexual revolution, cocking a snook at the authorities with delirious polysexual abandon.
Brian Robinson
Join the BFI
BFI Members
Enjoy priority booking for BFI Flare, and a world of benefits year round.