The Punk Singer
Documentary about riot grrrl and feminist icon Kathleen Hanna, lead singer of Bikini Kill, Le Tigre and The Julie Ruin.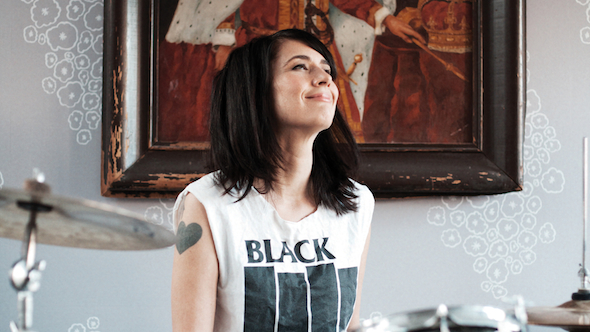 Image gallery
Director Sini Anderson
Producers Tamra Davis, Gwen Bialic, Rachel Dengiz, Erin Owens, Alan Oxman
USA

2013

82 min
UK Distribution Dogwoof
'Feminists we're calling you! Please report to the front desk!' You probably know this already but Kathleen Hanna is back! A founding member of the riot grrrl movement and front woman of Bikini Kill and Le Tigre, Hanna will be returning to these shores soon with The Julie Ruin. But where has she been for the last few years? Anderson's sensitive film serves to answer some of the questions Hanna's devoted fans have about her absence, while offering a perfect introduction to this extraordinary feminist icon who has made a profound impact on everyone from Lynne Breedlove to Tavi. The interviews are illuminating, the archive footage is a thrill to see and the music is, as ever, a joy. Welcome back Kathleen!
Nazmia Jamal
Bikini Kill in the U.K. "It Changed My Life"
Director Lucy Thane
UK

1993

25 min
Much-loved documentary capturing the excitement of Bikini Kill's tour of the UK with British riot grrrl band Huggy Bear.