Opening Night Gala
Lilting
An intimate portrait of two strangers brought together by the common language of grief.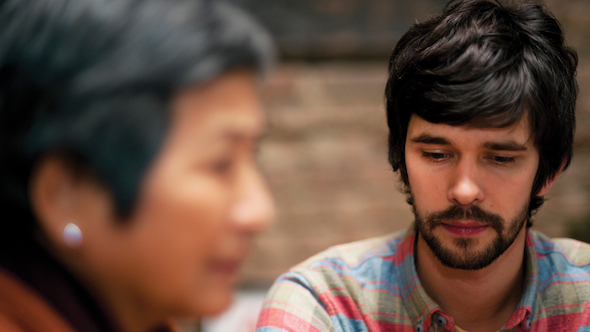 Image gallery
Director-Screenwriter Hong Khaou
Producer Dominic Buchanan
With Ben Whishaw, Cheng Pei Pei, Andrew Leung, Peter Bowles, Naomi Christie, Morven Christie
UK

2013

86 min
UK distribution Artificial Eye
Staggering from loss after the recent death of his lover Kai, Richard (Ben Whishaw) reaches out to Kai's mother Junn (Crouching Tiger's Cheng Pei Pei), a Chinese-Cambodian woman who has never assimilated or learned English in her twenty-odd years in London. Kai was Junn's lifeline to the world; she relied on him for everything, but despite this enforced intimacy, he never came out to her and Junn remains fiercely critical of Richard through a fugue of maternal jealousy and denial. Director Hong Khaou's film uses a cinematic idiom all of its own, weaving narrative strands from past and present, real and imagined, between mother and son and also between Richard and Kai (a boyishly beautiful Andrew Leung). Lingering, tender scenes of the lovers are dreamily captured by Weekend cinematographer Ula Pontikos (who deservedly nabbed a Sundance award). While serious and moving as a study of loss, Lilting also gracefully incorporates humour and warmth through a subplot in which Junn is wordlessly courted by an elderly Englishman (Peter Bowles), aided by a translator supplied by Richard. A lyrical exploration of the pleasures and pains of communication, produced under the auspices of Film London's hugely successful Microwave scheme, this is a precious British film to celebrate. It's also a sophisticated portrait of a gay male relationship that goes beyond the first flushes of love to the heights and bittersweet depths of sharing a life, albeit briefly, with someone you love. The BFI couldn't be more delighted to open our newly rebranded and expanded BFI Flare: London LGBT Film Festival with the European premiere of Lilting.
Tricia Tuttle
Tickets for the Opening Night screenings of Lilting are subject to a ballot for BFI Members.
The ballot is now closed.