Accenture Gala
The Last Match
La Partida
Love and money force two young Cuban men to change their lives and take big risks.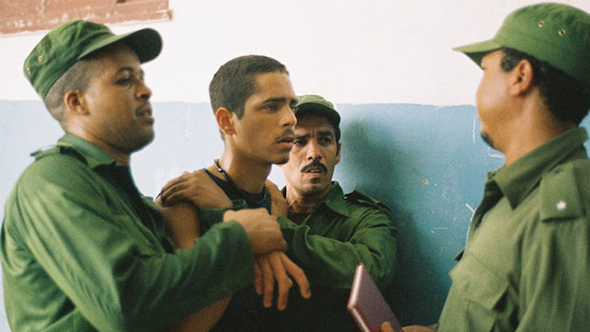 Image gallery
Director Antonio Hens
Producers Antonio Hens, Vanessa Portieles
Screenwriters Abel González Melo, Antonio Hens
With Milton García, Reinier Díaz, Luís Alberto Garcia, Mirta Ibarra
Cuba-Spain

2013

94 min
UK distribution TLA
Rey and Yovsani are two young men trying to get by as best they can in contemporary Havana: one uses his physical charms to make money as a rent boy for rich tourists, the other works for his girlfriend's father selling a wide range of clothing and general goods but dreams of escape. They meet on the slum football ground where they regularly play; and a chance encounter at a cruising ground shows to each their hitherto nonrevealed sexuality. A passionate affair ensues. They both have girlfriends and rely heavily on family members for help with the basics (home comfort, food and affection) but their focus increasingly and dangerously becomes each other. Rey feels emboldened by easy money and splashes out on clothes but gambling drives him deep into debt. An increasingly desperate search for money makes them both take risks. When Rey is scouted for a major football team he jeopardises everything by continuing to indulge in late-night activities. The story is a compelling and all-too-believable account of the pressures of keeping it together but heartbreak is never far away. Bold and passionate performances from both leads make this a fascinating excursion into the lives of people on the edge.
Brian Robinson
Sponsored by