Gerontophilia
Bruce LaBruce's charming new film about a young man who loves older men.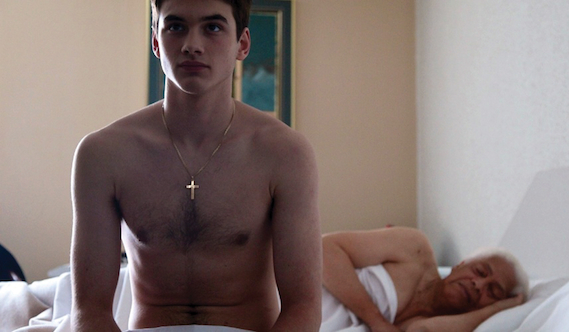 Director-Screenwriter Bruce LaBruce
Producers Nicolas Comeau, Leonard Farlinger, Jennifer Jonas
With Pier-Gabriel Lajoie, Walter Borden, Katie Boland, Marie-Hélène Thibault
Germany

2013

82 min
UK Distribution TLA
The title means love of old people and from its world premiere at the Venice Film Festival last year, Bruce LaBruce's latest film has surprised audiences with its unconventional story of inter-generational love, taking a dig at our mainstream culture's obsession with youth. Lake is an unusual young man, fascinated by men who are significantly older than him. Although he has a girlfriend, while he is working as an orderly in an old people's home he gets very close to an elderly man called Mr Peabody and starts to wean him off the medication that keeps him easy to manage. Lake eventually helps Mr Peabody to escape and they set off to see the ocean on a road trip of discovery. An antidote to ageism and a reminder that youth and age are not necessarily immune to each other.
Brian Robinson
Join the BFI
BFI Members
Enjoy priority booking for BFI Flare, and a world of benefits year round.