Fright Night
The 1985 cult horror movie with plenty of gay subtext to sink your teeth into.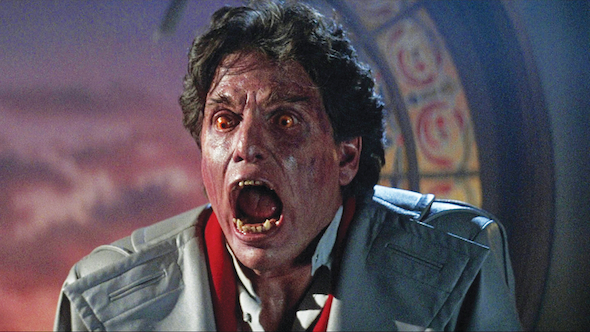 Image gallery
Director-Screenwriter Tom Holland
Producer Herb Jaffe
With Chris Sarandon, William Ragsdale, Amanda Bearse, Stephen Geoffreys, Roddy McDowall
USA

1985

108 min
18
UK distribution Park Circus
When certified horror buff Charlie Brewster becomes convinced the two guys next door are vampires, everyone around him thinks he's just watched too many spooky movies. But as the signs add up, Charlie enlists the help of horror host Peter Vincent to destroy the suburban bloodsuckers. Essentially posing as a bourgeois homosexual couple, these snooty vamps have as much an appetite for fashion and antiques as they do virginal flesh. Meanwhile Charlie becomes so obsessed with the sexy stranger next door, his poor girlfriend doesn't even get a look in. Fright Night is as gay off-screen as it is on: star Amanda Bearse came out in the 90s, while some might recognise Evil Ed (Stephen Geoffreys) from his later career in such, erm, classics as Uncut Glory and Guys Who Crave Big Cocks. Oh, and then there's also Roddy McDowall...
Michael Blyth
Join the BFI
BFI Members
Enjoy priority booking for BFI Flare, and a world of benefits year round.