BFI Southbank
Belvedere Road
South Bank
London SE1 8XT
BFI Southbank box office is closed Wed 7 Mar until 17:30. Phone lines remain open as normal from 11.30am to 8.30pm on 020 7928 3232 and tickets can still be booked online. The BFI complex will re-open at 5.30pm and access to evening performances remain unaffected. BFI Bar & Kitchen is closed from 16:00 Tue 6 Mar until 19:00 Wed 7 Mar.
020 7928 3232
The BFI Riverfront entrance will be closed from Monday 12 February for major refurbishment works.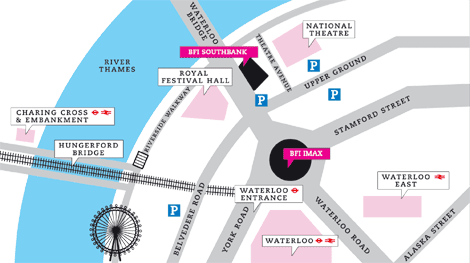 Opening times
Daily: 9:45-23:00
Box office (daily)
Phone: 11:30-20:30
In person: 11:00-20:30
BFI Shop
Monday-Saturday 11:00-20:30
Sunday 12:00-20:00
BFI Reuben Library
Tuesday-Saturday 10:30-19:00
Mediatheque
Tuesday-Sunday 10:30-21:00
Access information
The main BFI Southbank foyer and box office entrance is on Theatre Avenue, by the National Theatre at street level. There are stairs and a wheelchair accessible lift to gain access to the main foyer.
There is a help point phone in the foyer to call for staff if you need any assistance.
Please note: The entrances located opposite the Royal Festival Hall and the National Theatre Coffee Shop are now closed to the public. All public access is through the Riverfront and Theatre Avenue entrances.
Visitors using the Hayward Gallery car park may find it easier to use the Theatre Avenue entrance. You can buy tickets from the box office located in the main foyer.
There is a wheelchair accessible lift and steps with handrails lead up to the NFT1 foyer and The Riverfront. We'll be happy to assist if you require escorting via an alternative route.
Access to NFT2 from the box office is via a lift or stairs.
There are stairs and a lift at the back of NFT3 and access is via the main foyer. If you are a wheelchair user, please ask at the box office counter and we will be happy to assist, as the route is not marked as a standard entryway.
The Studio, BFI Reuben Library and Mediatheque are all accessed via the main foyer and box office area.
Both café bar areas are fully accessible.
Disabled parking
Parking
Blue Badge holders and those with access requirements can be dropped off by the Film Store on Theatre Avenue.
The Hayward car park is now closed to cars. Alternative parking is available nearby at the National Theatre car park (30 metres) and APCOA Cornwall Road Car Park (190 metres), subject to charges.
Blue Badge Parking National Theatre
Alternative parking for Blue Badge holders visiting Southbank Centre can be found at the National Theatre car park (30 metres).
Please note: on Sunday when the National Theatre building is closed there is no step-free access from the car park.
Blue Badge Parking APCOA Cornwall Road
Alternative parking for Blue Badge holders visiting BFI Southbank can also be found at the South Bank Car Park - APCOA Cornwall Road Car Park. Just take your badge and car park ticket to the parking attendant office at the entrance to the car park for validation before you leave.
Wheelchair spaces in the cinemas
Please book your wheelchair seat in advance to avoid disappointment. This will help us allocate adjoining seats for any companions. We'll make every effort to accommodate customers who have not made a prior booking and if you wish to take your seat unassisted, wheelchairs or scooters can be stored in the foyer. If you need any further information or assistance, please speak to the box office manager on duty. The BFI Southbank is a multi-level building with lifts available to access each floor. The maximum dimensions for a scooter/powered wheelchair for these lifts is 880mm wide and 1330mm long, maximum weight 340kg.
NFT1 has six wheelchair spaces – four at the rear and two at the front of the cinema.
NFT2 has four wheelchair spaces at the front of the cinema.
NFT3 has three spaces at the front of the cinema.
The Studio has two spaces.
Guide dogs
We welcome guide dogs at BFI Southbank and can accommodate them in the cinemas. Please book your ticket in advance so that we can allocate the most appropriate seating. We can provide drinking water for your guide dog and are happy to look after him/her during your screening.
Assisted hearing facilities
Three of our screens have induction loop facilities and the box office minicom number is 020 7620 2025. We also occasionally present palantype and soft type screenings.
Toilets
There are four toilets adapted for wheelchair users. They are situated in:
The foyer of NFT1 next to benugo bar & kitchen.
The main foyer next to the Mediatheque.
The corridor opposite the Blue Room.
The ground-floor corridor next to the lift. This requires a RADAR key, so please ask a member of staff for help if you are not a RADAR key holder.
Join the BFI
BFI Members
Enjoy priority booking for BFI Flare, and a world of benefits year round.