Carol
Todd Haynes' masterful Patricia Highsmith adaptation from a superb script by Phylis Nagy, Carol is the lesbian film we've all been waiting for.
  This film will be screened on 35mm at the 19 March performance.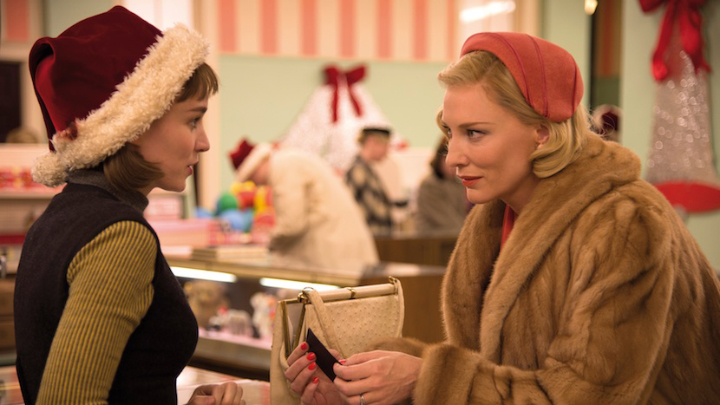 Director Todd Haynes
Producers Elizabeth Karlsen, Stephen Woolley, Christine Vachon
Screenwriter Phyllis Nagy
With Cate Blanchett, Rooney Mara, Kyle Chandler
USA-UK 2015
118 mins
UK distribution STUDIOCANAL
Todd Haynes brings all his skill and sophistication to bear on his adaptation of Patricia Highsmith's groundbreaking 1952 novel. Therese (Rooney Mara) toils day-to-day as a shop girl in a big department store, whilst dreaming of becoming a photographer. Carol (Cate Blanchett) is in the middle of a messy divorce, desperately striving to hold on to both her daughter and her dignity. When their eyes meet across a crowded shop floor the attraction between them is immediate. Phyllis Nagy's exquisite script draws out the complexity of their situation, offering up an elegant and intelligent portrait of unfolding love. This is achingly beautiful filmmaking and not to be missed on the big screen.
Emma Smart
Both screenings have Audio Description available. The screening on 24 March will have Hearing Impaired Subtitles.
Image gallery