Big Joy: The Adventures of James Broughton
A great documentary about a pioneering poet and film-maker, James Broughton, who found love in old age as a radical faery.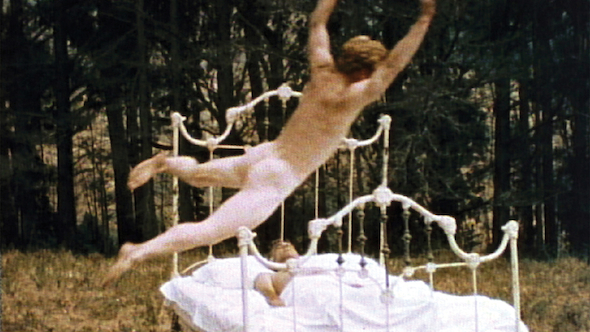 Image gallery
Directors Stephen Silha, Dawn Logsdon, Eric Slade
Producer Max St Romain
USA

2013

82 min
Production company Frisky Divinity
Perhaps best known for The Pleasure Garden (1953), a film shot at Crystal Palace and awarded a prize by Jean Cocteau in Cannes, James Broughton was a man of many parts: a poet, a filmmaker, a socialite, a traveller, a husband, father, teacher and in the last third of his life, an out and radical gay man. He spent most of his creative life in San Francisco and from the late 1940s helped nurture an artistic culture that eventually gave birth to the Beats. His bisexual life changed forever when he began a love affair in 1975 with a young man 35 years his junior. Beautifully illustrated with extracts from his poetry and his many films, and liberally sprinkled with interviews from key collaborators, friends and family, Big Joy reveals James Broughton as a brilliantly perceptive visionary, a bold and inspiring interpreter of art and life and the joy of creation.
Brian Robinson
Join the BFI
BFI Members
Enjoy priority booking for BFI Flare, and a world of benefits year round.