Below Her Mouth
A frank and passionate depiction of a love (and desire) at first sight between two women and the impact it has on their lives.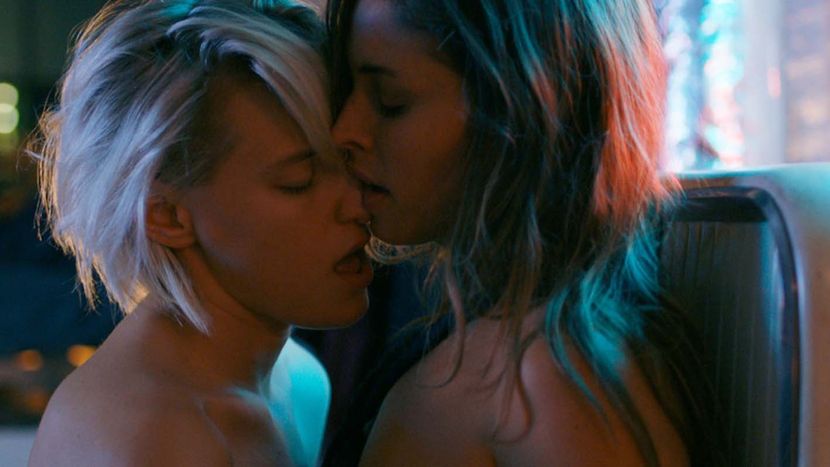 Dir April Mullen
Prod Melissa Coghlan
Scr Stephanie Fabrizi
With Natalie Krill, Erika Linder, Sebastian Pigott
Canada 2016
92min
Sales Elle Driver
These members of the filmmaking team are expected to attend the festival:
Stephanie Fabrizi, Screenwriter; Melissa Coghlan, Producer
See the full list of visiting festival guests. Please note that we can't guarantee guest attendance at any particular screening.
When Jasmine and Dallas (Natalie Krill and out lesbian supermodel Erika Linder) first meet, there's an instant, magnetic jolt of attraction. However, there's one small problem. Jasmine is engaged to a man and he's convinced there's no impediment to their getting married. With Below Her Mouth, screenwriter Stephanie Fabrizi sets out to write a no-holds-barred depiction of what happens in the first few days of two women falling in love. And what does happen? Sex. Lots of eager, ravenous, steamy sex – in bed, kitchens, bathrooms and in public. A project close to the filmmakers' hearts, written, directed and produced by women, and shot with an entirely female crew (in part to create a safe space for the actresses to act out the most intimate scenes), Below Her Mouth is a film about female desire made by women, for women.
Tricia Tuttle
This film contains scenes of a graphic nature. Over 18s only.
Special thanks to the generous support of the Canadian High Commission.