BFI & Radio Times Television Festival
Join us for the largest and most prestigious television festival in the UK.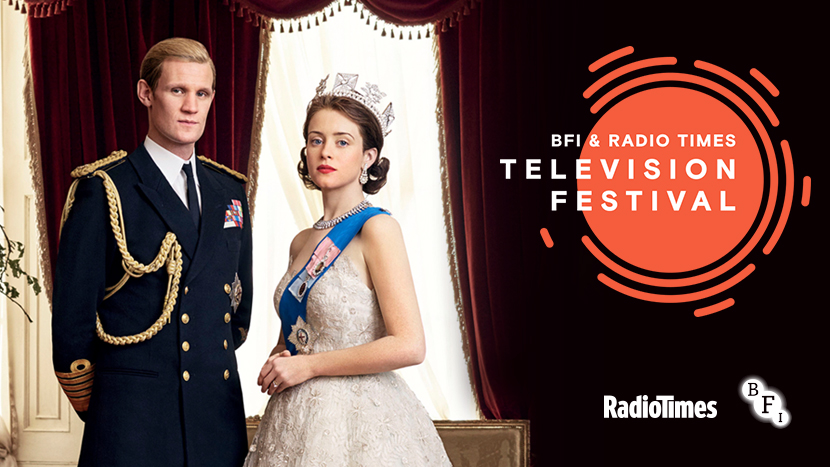 We are living in a new golden age of television drama. Hollywood stars and the finest creative talents are turning to the small screen. Acclaimed shows such as The Crown, The Night Manager and Sherlock are transfixing viewers not just in Britain but across the globe. Technology is transforming this broadcasting landscape – allowing audiences to choose when they want to watch, stream or download shows. Television's scale and ambition is now able to match that of film. In this glittering new festival, we'll bring you the inside story on all your favourite programmes. Join us for exclusive premieres, hidden gems from the BFI archive and a host of talent, including Dame Maggie Smith, Mark Gatiss, Sir Ridley Scott and Rowan Atkinson. Be there!
Tickets (see each event for ticket prices) on sale to BFI Patrons and Champions Thu 9 Feb 11.30; BFI Members Fri 10 Feb 11:30 and to the public from Mon 13 Feb 11.30. BFI Members save £1.50-£1.70 on ticket prices.
Friday
Rowan Atkinson 'just couldn't say no' to stepping into the gumshoes of Michael Gambon, Richard Harris and Rupert Davies to reinvent the French detective for a new generation.

A limited number of VIP experiences for the opening night of the BFI & Radio Times Television Festival are now available.

Join us as comedian, actor, writer and globetrotter Michael Palin takes us on a journey through his amazing life.

Palin's acclaimed, bittersweet 'near autobiographical' drama about a teenager's first sexual experiences on a seaside family holiday.
Saturday
A young American visits an author whose work he greatly admires, but meets hostility from the writer's exquisite wife, and finds that their home conceals a mystery.

Find out the secrets from the team who brought Saturday night's glitziest TV show to the screen.

Radio Times' TV editor and writers share a few secrets of the previewer's art. Is getting paid to watch TV all day as cushy as it sounds?

Screening of the first episode of the new series, followed by an on-stage chat with members of the cast and crew.

Their YouTube and Instagram success has even translated into best-selling books and TV series. But how? Hear their social media secrets.

Join series creator Heidi Thomas as she shares the secrets of the show alongside executive producer Pippa Harris and cast members.

Join the country's best-loved wordsmith, Susie Dent, as she vacates Countdown's dictionary corner to take us on a journey across the rolling landscape of the English language.

The major star of stage and screen looks back at a life in the limelight.

We find out what makes devilish, flawed, complicated Ross Poldark tick. We'll also share a glimpse of series three, due to be aired this autumn.

Radio Times' art director Shem Law and prolific Radio Times photographer Don Smith take you through 90 years of iconic covers.

Take one maverick chef, mix in a dollop of fun and you have the essential ingredients for a TV cookery show!

Two gems from Wood's career that capture all her brilliance as an award-winning stand-up performer

Julie Walters and colleagues come together to share their memories of the late, great Victoria Wood and introduce some memorable clips.

Lead actors Jenna Coleman and Tom Hughes take a break from filming the second series to discuss the making of ITV's lavish hit drama.

Join creator and writer Jed Mercurio and cast (to be announced) as they reflect on the series so far and offer a glimpse behind the scenes of the hit drama.

Look back through Tom Jones's outstanding ATV series, with guests featuring everyone from Sammy Davis Jr to Stevie Wonder and Dusty Springfield.

Join executive producer Stephen Daldry, one of the creative minds behind the series, actor Claire Foy and other cast members (to be announced) to hear about the making of this Golden Globe-winning, majestic drama.
Sunday
Watch two new episodes of the enchanting CBBC children's drama and meet author Jacqueline Wilson, creator of Hetty Feather and ex-children's laureate, and selected cast.

Come and see two brand new episodes from CBBC's top football drama, based on Dan Freedman's best-selling books.

We've teamed up with Aardman, the creators of Wallace and Gromit and Shaun the Sheep, to offer these ewe-nique workshops.

We've teamed up with Aardman, the creators of Wallace and Gromit and Shaun the Sheep, to offer these ewe-nique workshops.

From Skins, Shameless and Glue to the upcoming His Dark Materials, BAFTA-winner Jack Thorne is at the forefront of British TV's current golden age.

Peter Capaldi is not the only one taking his leave of the Tardis. As writer Steven Moffat's time at the helm of BBC's Doctor Who draws to a close, we take this opportunity to celebrate its huge global success. Includes a sneak preview of clips from the upcoming series.

Louiza Patikas (Helen), Tim Watson (Rob) and former Archers editor Sean O'Connor reveal the inside story of Rob and Helen.

Two of our best-loved children's authors, Judith Kerr (The Tiger Who Came To Tea) and Michael Morpurgo (War Horse) in conversation.

Join 'Superhumans' Libby Clegg, who runs with a guide, and swimmer Susie Rodgers, and sports presenter and The Last Leg host Adam Hills as they celebrate the rise of the Paralympics on TV.

Join us to celebrate a great television institution on this its 60th anniversary.

Writer/actor/comedian and fantasy maestro Mark Gatiss talks to Radio Times Television editor Alison Graham about his favourite TV moments, including Sherlock.

Following this bold Brazilian drama meet Walter Iuzzolino, curator of Walter Presents, the service introducing international TV dramas to the UK.

Season two opener of the Spanish prison drama + discussion with actor Berta Vázquez, co-creator Iván Escobar and Walter Iuzzolino.

Hear Oscar-winning director Susanne Bier, executive producer Simon Cornwell and cast member Alistair Petrie explain how they created such brilliant water-cooler TV that kept us on the edge of our seats.

These two giants of comedy, brought together on stage for the first time, discuss their craft and comedies past, present and future.

Teams of up to six are invited to try their hands at our fiendish TV Quiz, guaranteed to challenge the brain cells of even the most dedicated TV fans.

Join the composers who write the stirring theme tune and fabulous incidental music with two of the creative minds behind the series.

Steven Moffat - showrunner of two of the UK's biggest TV shows, Doctor Who and Sherlock – in conversation with Frank Skinner.

Illustrated by clips of some of his finest work, this masterclass will offer fascinating insight into Brooker's working methods and the TV shows that have influenced him.

Exclusive preview of a Sky Original 1970s set thriller about a group of black power activists in London + discussion with actors Freida Pinto and Babou Ceesay.