Lensing the Landscape: River Yar + discussion with artists William Raban and Chris Welsby
Experimenta
Lensing the Landscape: River Yar
+ discussion with artists William Raban and Chris Welsby
Enjoy this seminal avant-garde work of the 1970s on BFI Southbank's biggest screen.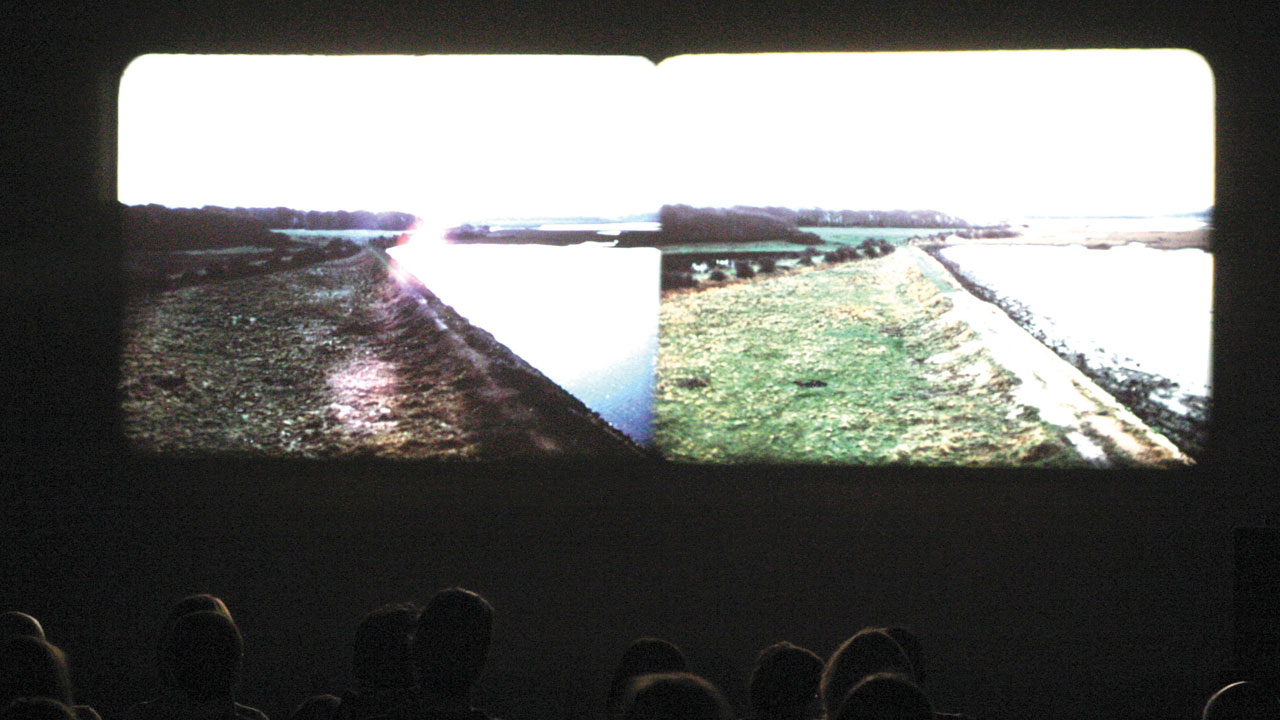 Directors

William Raban and Chris Welsby

UK 1972. 36min
River Yar (1972, William Raban and Chris Welsby, 36min) was made against a backdrop of debate and exploration around the formal and perceptual qualities of film. Widely considered a seminal avant-garde work of the 1970s, it presents the tidal landscape of the eponymous river from a mill house on the Isle of Wight, filmed in time-lapse across both the autumn and spring equinoxes. Each time period is presented in its own discrete 16mm screen which run side-by-side.
Fifty years after its premiere, we present the stunning, very rarely seen 16mm prints held by the BFI National Archive on the full expanse of the largest screen at the BFI, NFT1. Makers Raban and Welsby join us for a conversation with BFI National Archive curator William Fowler, and in addition present original planning documents, plus a film each of their own.
Split between time zones and reformulated in projection, River Yar offers a sustained, majestic vision that studies and re-articulates aspects of seasonal change in ways that had never been done before. Made early on in Raban and Welsby's careers, it remains an exemplar of landscape filmmaking, and screening it is always a special event, not least because of the relative technical complexity involved.
"William Raban's twin screen River Yar made with Chris Welsby, is one of the richest and most beautiful films to have been made by an English film maker."
John Du Cane, Time Out, 1972.
+ Seven Days
Director

Chris Welsby

UK 1974. 20min
Shot by a small stream on the northern slopes of Mount Carningly in Wales, the seven days were shot consecutively and each day started at the time of local sunrise and ended at the time of local sunset. One frame was taken every ten seconds during daylight, with the camera position determined by the presence or absence of clouds. The camera was mounted on an equatorial stand—a device used by astronomers to track the stars. Chris Welsby's 1974 film is a dizzying, tour-de-force record of the rotation of the planet, beset by stormy weather.
+ Laki Haze
Director

William Raban

UK 2020. 18min
William Raban's Laki Haze sees the artist return to earlier preoccupations with landscapes and the use of the single long take, here juxtaposed with first-hand accounts of the Icelandic Lakakigar volcano eruption of 1783 which shrouded vast swathes of the northern hemisphere with sulphurous haze, triggering widespread crop failure, famine, disease and death. The multi-dimensional aspects of temporal space are once again folded into the frame as the film simultaneously connects with the current ecological castastrophe.
Total running time 110min