8th BFI Future Film Festival
20 – 22 February 2015
At the 8th BFI Future Film Festival we'll provide opportunities to connect with the film industry, kick-start your career and develop new and existing skills with inspirational screenings, masterclasses, Q&As and workshops.
8th BFI Future Film Festival highlights
After winning a place on a workshop with Film Critic Ashley Clark, young journalists wrote about some of their highlights you can look forward to at the 8th BFI Future Film Festival.
Grace Barber-Plentie on Fight the Power: How to Be Black in the British Film Industry (PDF)
Tom Bond on The Kingdom of Dreams and Madness (PDF)
Maisie Bruno on Whiplash (PDF)
William Guy on Fiction Shorts (PDF)
Husna Rizvi on Women in Film and TV (PDF)
Silvia Rose on Documentary Shorts (PDF)
Lewis Rymond on The Possibilities are Endless (PDF)
You can book tickets online or by calling the box office on 020 7928 3232.
£15 day delegate pass / £30 for a three-day weekend delegate pass
£10 day ticket / £20 for a three-day weekend ticket
This year we're also offering a limited number of exclusive delegate passes that will give you the chance to network with industry professionals and your fellow filmmakers. The delegate pass not only gives you greater freedom to walk in and out of any session* in the programme without pre-booking, it also gives you access to exclusive events in our Filmmaker Delegate Lounge sponsored by BFI Film Academy, that are only available to Delegate Pass holders. Special events in the Filmmaker Delegate Lounge include: Teatime networking with Film Funders, Working with Composers, Finding and managing cast and crew, How to network, drop-in and pre-bookable script Doctor surgeries and free tea and coffee throughout the festival. As a delegate pass holder you'll also be invited to our exclusive BAFTA networking drinks party at the end of each day.
Check out the full Filmmaker Delegate Lounge Timetable.
*Subject to seating availability.
Read our frequently asked questions for answers to common queries.
Media partner

Promotional partner

Supported by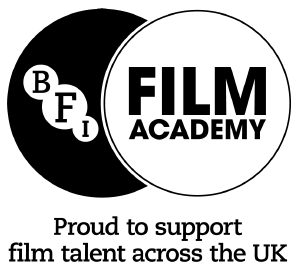 Future Film Festival awards supported by The Chapman Charitable Trust and The London School of English/Londonschool trust. Look out in March for the BFI Raw Awards – concept founder and supporter: Charlie Morgan