Food and drink
Two great places to lounge, eat and drink at BFI Southbank.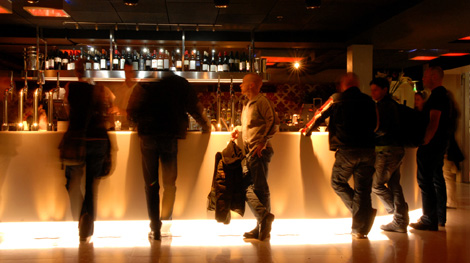 Benugo bar & kitchen
The restaurant offers contemporary dining from a range of British-influenced seasonal dishes and specials. While you're here, sample the bar or pop into the intimate Drawing Room, a small cocktail bar behind a secret doorway in the lounge (also available for hire).
Between 5-7pm enjoy a set two- or three-course menu, perfect for pre-film goers or an early dinner.
Opening hours
Monday-Saturday, 10.00-23.00
Sunday and bank holidays, 10.00-22.30
For any enquires please visit benugobarandkitchen.com or call 020 7401 9000.
The Riverfront
With river views from its location beneath Waterloo Bridge, the Riverfront is open for all-day dining from a seasonal menu of burgers, salads and classics such as fish and chips. The bar area serves a huge selection of beers and spirits and a grab-and-go area is available for tea, coffee and sandwiches on the run.
Opening hours
Monday-Thursday, 09.00-23.00
Friday-Saturday, 09.00-01.00
Sunday and bank holidays, 10.00-23.00
To book, email riverfront@benugo.com or call 020 7928 0808.
Concession stand
In light of some visitor requests for refreshments in screenings, and against the backdrop of continuing financial challenges, we have introduced a new range of confectionary for a trial period. We have sourced a small range of quality products that will be available to buy on-site at BFI Southbank. The range will include chocolate by Green & Black's Chocolate and delicious Minghella Ice Creams (hot food, savoury food or popcorn is not permitted in the cinemas). Only food purchased at the concession may be consumed in our cinemas and we are asking that our customers help us by taking their litter with them and eating with consideration.