COVID-19 statement - BFI Southbank
Update on BFI Southbank reopening
We're delighted to announce that BFI Southbank will be re-opening on 1 September.
Film is an unrivalled way to tell stories, inspire, unite and connect and we can't wait to welcome you back to share the big screen experience.
The health and safety of our audiences and staff is our first priority, and you will find some changes. Here are a few things we are doing to protect you:
– regular deep cleaning, including after every screening
– advanced booking and e-tickets only
– social distancing in cinemas, with assigned seating
– dedicated queues for each screen and different entry and exit points
– full trained staff wearing PPE
We'd also love to know what you think, and will be emailing audiences soon to ask how you'd like to experience BFI Southbank as we return.
We've been extremely touched by the amount of love, support and goodwill we've had from audiences, partners, supporters and filmmakers during these unprecedented times. We're truly humbled, and thank you.
We'll update in the coming weeks with more details, including booking and programme information.
In the meantime, our Riverfront bar is now open for take away drinks and snacks so come and enjoy a drink by the river in the sunshine.
We hope you continue to enjoy BFI Player. And check out our range of DVDs and other film essentials, available at BFI Shop.
Thank you for continuing to support the BFI. It means a lot to us.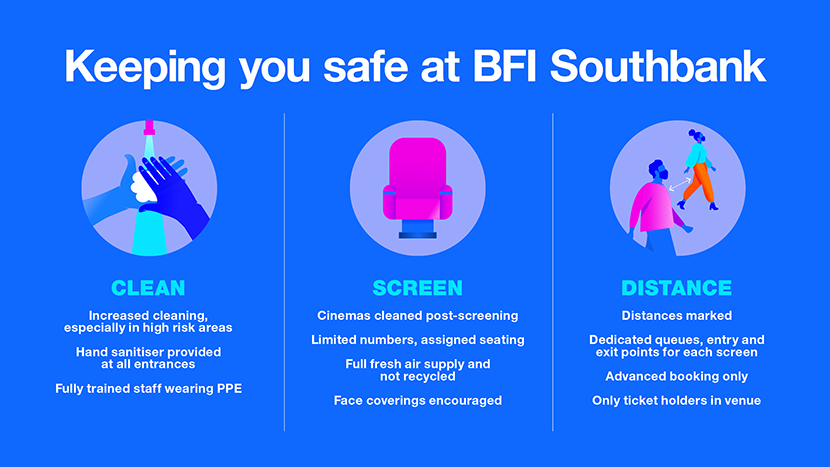 BFI Southbank closure FAQ
How long will the venue be closed for?
At this stage we are not able to say how long the venue will be closed for, but will keep audiences updated via BFI social media channels and email communications.
How do I find out when BFI will reopen?
Please sign up for email updates on the BFI website, or follow us on social media, where we will be keeping audiences informed.
Is the BFI & radio Times Television Festival cancelled?
Yes, the TV Festival – scheduled for 17-19 April is now cancelled.
Are BFI distribution postponing any of the planned theatrical releases?
Yes, the BFI release schedule has changed. County Lines, which was due for release 17 April has been postponed, with a new date to be announced in due course. Women Make Film, due for release on 18 May, is postponed, as is the BFI Southbank season of films that accompanies the theatrical release. In the meantime, Women Make Film will be released on BFI Player and BFI Blu-ray on 18 May. We hope to release La Haine (originally planned for 29 May) in cinemas later in 2020. Please check for updates at bfi.org.uk/releases
Will any seasons or events planned for March or April be rescheduled?
The BFI Southbank programme planned for the rest of the year will be put on hiatus while we try to plan for an uncertain future. Some events and seasons may be rescheduled and more information on this will be issued in the coming weeks.
Can I book for May / June and beyond?
The programme for the rest of the year is currently on hiatus as we are unsure of when we will be able to reopen. As we plan for an uncertain future we will endeavour to keep audiences updated by email and on our social media channels. For the time being, the May programme – due to go on sale in early April – is on hold and will not be mailed out to customers at the end of March as per our usual timelines. Customers will be advised if and when this changes.
When can I have a refund?
Ticket holders will be contacted directly by box office in the coming days with their returns options.
BFI is a charity and we rely on the support of audiences to help us not only run screenings at BFI Southbank and year-round at our Festivals, but also to preserve and exhibit the national film and TV collection and inspire and support filmmakers of the future. We'd be incredibly grateful if you would consider donating to the BFI to help us more confidently navigate these uncertain times for us and the wider film community.
I have been to BFI Southbank in the last week, is there a risk I have contracted covid-19?
The health of our employees and visitors is our priority. Our staff have been following the hygiene guidelines issued by the NHS and we respectfully requested our visitors to do the same, asking anyone who displayed any of the symptoms (cough, high temperature or shortness of breath) to stay at home. We have also ensured that adequate hand washing and sanitizing facilities are available to all throughout the building.
Can I still buy from the BFI shop?
Our physical shop at BFI Southbank is now closed until further notice. Our online Shop  is open as usual. However, orders will not be posted until we have reopened (date TBC). If you have any questions about your order, please contact bfishop@bfi.org.uk. BFI Blu-rays and DVDs are still available to buy via other online retailers, and BFI Player can also be enjoyed from your own home.
Is the BFI Reuben Library open?
The library is now closed until further notice and we apologise for the impact this will have to your research needs.
Is the BFI mediatheque open?
The mediatheque at BFI Southbank is now closed. Please visit BFI Player to enjoy content from the BFI National Archive from the comfort of your own home.
I am a BFI member, will there be any discount or benefit applied to my membership to recognise closure?
The duration of the closure of BFI Southbank is unknown at this time and we will continue to monitor the situation to ensure BFI Members are getting value for money from their memberships, including looking into additional offers which we will update BFI Members on in the coming weeks. In the meantime BFI Members have access to discounts on BFI Player, and on subscriptions to Sight & Sound.
Are either of the bars and restaurants still open?
BFI Riverfront and the Bar & Kitchen are both closed until further notice.
BFI Southbank re-opening
BFI Southbank is currently closed due to COVID-19 situation, but is re-opening on 1 September.
Read more about the re-opening
Calendar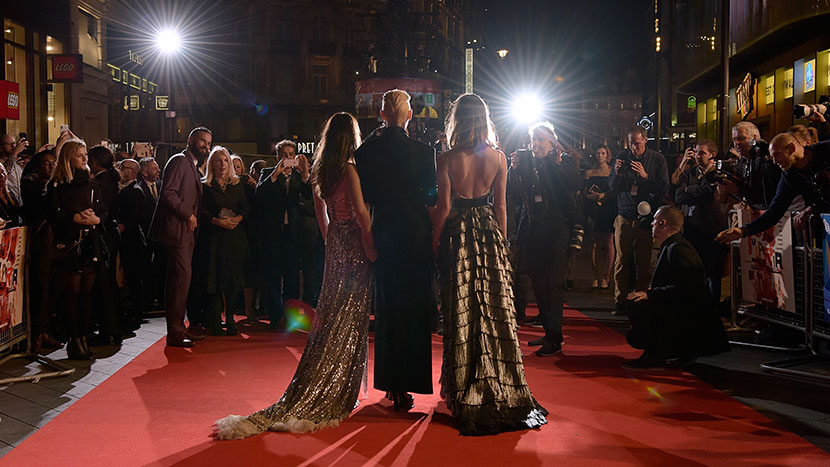 BFI Membership
Become a BFI Member from only £37.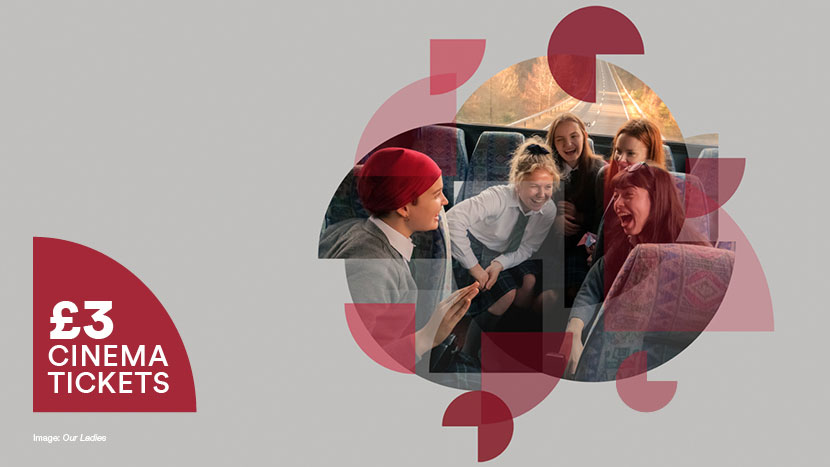 25 & under
If you're aged 16 to 25, you can get £3 cinema tickets at BFI Southbank to any film, any time.