Ballet Black + discussion with two of the film's stars, Jacqueline Boatswain and Colin Charles
Ballet Black
+ discussion with two of the film's stars, Jacqueline Boatswain and Colin Charles
A very personal documentary about pioneering Black British dance troupe Ballets Nègres.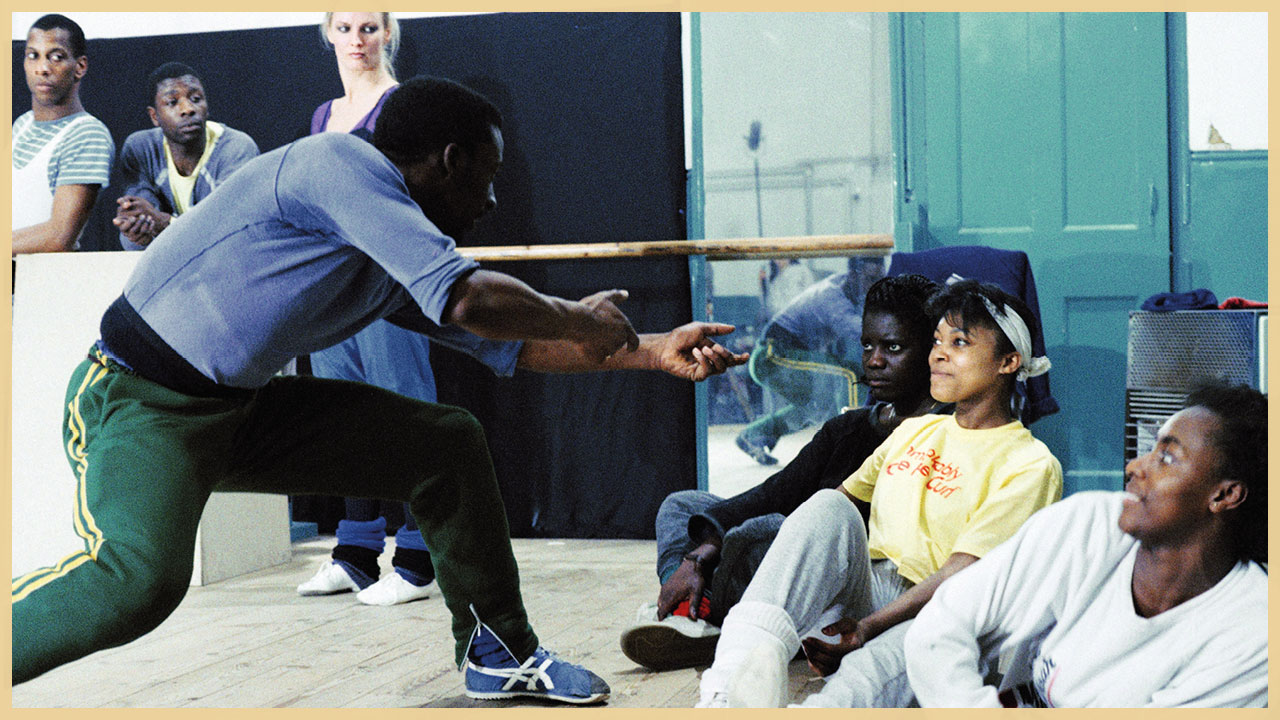 Director

Stephen Dwoskin

With

Jacqueline Boatswain, Colin Charles, Astley Harvey, Joy Richardson

UK 1986. 83min

16mm
Dwoskin's lifelong love of dance culminated in this very personal documentary about the Ballets Nègres, the pioneering Black British dance troupe, founded in London in 1946. Using a wealth of rare archival material and interviews, Ballet Black tells a story about pre-Windrush Black British culture that is still little-known today.
The story is brought alive by Dwoskin's cast of younger dancers, seen rehearsing and performing the original troupe's dances in a variety of inventive styles, and at a reunion party with the older generation. On its first release in 1987 it was shown in a double-bill with Black Audio Film Collective's Handsworth Songs.
"The film climaxes with a spectacular and vibrant performance of 'They Came' by young black dancers. The fact that a ballet 40 years old appears exciting and contemporary is surely a tribute to the company's place in the development of ballet and British culture."
– Chinyelu Onwurah, Guardian, 1986
Ballet Black will be followed by a discussion of the making of the film and its legacy by two of its stars, Jaqueline Boatswain (Shameless, Cuckoo) and Colin Charles (Cats – original production, English National Opera).
Biographies
Jacqueline Boatswain is an actor, dancer, and singer whose West End roles include Kiss Me Kate, Chicago, and Jesus Christ Superstar. She has numerous television credits, including long-running characters in Grange Hill, Hollyoaks and Doctors. Her recent roles include Shameless, Vera, Bancroft, Miracle Workers, Shakespeare & Hathaway, David Hare's Collateral, and alongside Orlando Bloom and Cara Delevingne in Carnival Row.
Colin Charles trained at the Rambert School of Ballet and Contemporary Dance. His West End credits include We Will Rock You, Joseph and the Amazing Technicolor Dreamcoat, Miss Saigon, Cats, and Five Guys Named Moe; and he has appeared in in English National Opera productions of Orpheus in the Underworld, Faust, and Aida. He is current performing in Dirty Dancing at the Dominion Theatre.
Also available on BFI Player.