Silvered Water, Syria Self-Portrait
Ma'a al-Fidda
A provocative, hard-hitting account of life in Syria during the civil war, and the pain of exile for Syrians living abroad.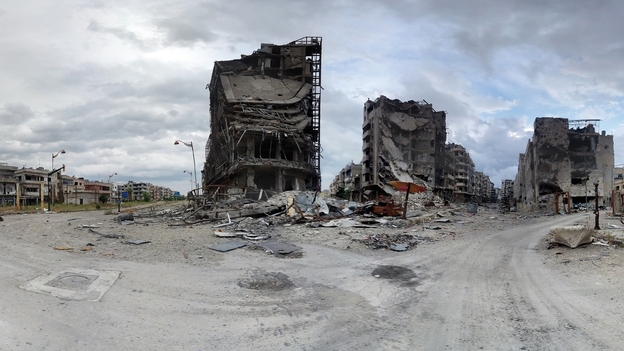 Open image gallery
Directors Ossama Mohammed, Wiam Simav Bedirxan
Producers Serge Lalou, Camille Laemle, Orwa Nyrabia, Diana El Jeiroudi
Syria-France

2014

92 mins
Sales Doc & Film International
Exiled in Paris, filmmaker Ossama Mohammed feels increasingly distant from his homeland of Syria, trying to make sense of the daily stream of images he is confronted with on YouTube. Editing together this parade of torture, death and protests, the fragments of horror may not emerge into a clear picture, but some things are definite – he cannot return and if he could he cannot know what it is he would be returning to. Then one day he is contacted by Wiam Simav Bedirxan, a young woman who lives in Homs. Finding a camera she begins documenting her life and surroundings, sending Mohammed her footage and thoughts. Developing her own filmmaking grammar while getting on with the basics of survival, her warzone dispatches convey a street-level experience as well as the desire for personal creativity and the right to tell one's own story. A raw, poetic, often harrowing film that does not give history lessons, this is urgent and unforgettable cinema.
Kate Taylor