Event For a Stage
The experimental document of four unusual performances staged by artist Tacita Dean and actor Stephen Dillane.
Please note: although the BFI box office has taken tickets for the Saturday 10 October screening at Tate Modern  off sale, tickets are also available to purchase from the Tate website.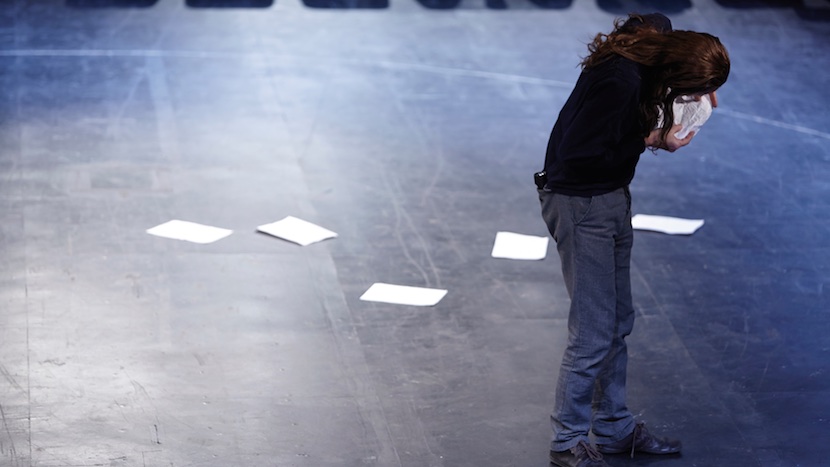 Director Tacita Dean
Producer Tacita Dean
Screenwriter Tacita Dean
With Stephen Dillane
UK-Germany 2015
50 mins
Production company Co Commissioned by Carriageworks and the 19thiennale of Sydney in Association with ABC RN additional support Frith Street Gallery, London and Marian Goodman Gallery New York/Paris
Tacita Dean, with actor Stephen Dillane (The Hours, Game of Thrones), presented a live theatrical happening performed over four nights at the 2014 Sydney Biennial, two 16mm cameras rolling on each occasion. Dillane changed elements of his appearance each night and, snatching pages from Dean who was sitting in the front row, recited Shakespeare, popular texts and personal stories, whilst also announcing adjustments in the camera set-ups and the changing of reels. Dean has returned to this tense scenario and cut into the material according to the systemic logic that emerged over the course of the serialised performance, inscribing changes in time and space, illustrating or actualising a form of deep choreography. Saturday's screening will be followed by a conversation with Tacita Dean.
William Fowler
Find out about the 59th BFI London Film Festival Experimenta Seminar.
Image gallery